Definition
The U.S. Occupational Safety and Health Administration, OSHA, is a federal government agency in the U.S. Department of Labor. OSHA's web site is https://www.osha.gov.
The primary goals of OSHA are to save lives, prevent injuries and protect the health of America's workers. OSHA employs over 2,000 inspectors to ensure job site safety.
Additional Info
OSHA was created by the Occupational Safety and Health (OSH) Act of 1970.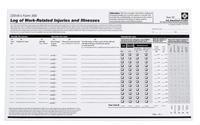 Take care of your OSHA 300 reporting obligations with these ready-to-fill forms from Safety Emporium.
While many see OSHA as an intrusive government agency intent on enforcing arcane rules, a 2012 study published in the prestigious research journal, Science, showed that OSHA saves lives and jobs. Before OSHA was established, an estimated 14,000 US workers were killed on the job every year. While workplaces today are much safer and healthier, in the US there are still more than 5,000 workplace fatalities each year and tens of thousands serious injuries. That's one reason OSHA offers a Voluntary Protection Plan (VPP) which saves additional money and lives by reducing the cost of injuries, accidents, downtime and litigation.
Despite OSHA's proven human and economic benefits, the Trump administration spent most of its tenure attempting to hamstring the agency. Enforcement activity declined, the agency removed a running list of occupational deaths from their web site, a new regulation allowed employers to hide injury reports from the public, and inspector employment attrition took its toll. In addition, the Trump administration's FY 2021 federal budget proposal attempted to eliminate OSHA's Susan Harwood Training Grants which are specifically targeted to underserved, low-literacy, and high-hazard industry workers and employers (these were restored under the American Rescue Plan Act of 2021). Moreover, OSHA went Trump's entire without an official administrator, a position that requires Senate approval, with one only being confirmed in October of 2021, and only then along party lines.
Ander the Biden administration, some of these policies/changes were rolled back and budget propsals called for increased funding for personnel, including inspectors. Still, OSHA's Covid-19 response was controversial, legally challenged and, ultimately completely ineffective, leaving the agency powerless to address this threat to worker health and safety.
SDS Relevance
OSHA has a number of workplace regulations covering a broad range of occupations and hazards. Several of these touch on the topic of Safety Data Sheets. The main OSHA regulation concerning SDS's is OSHA's Hazard Communication Standard 1910.1200. The HazCom Standard requires employers to establish a hazard communication program to transmit information on the hazards of chemicals to their employees by means of labels on containers, safety data sheets, and training programs. Implementation of these hazard communication programs ensures all employees have the "right-to-know" regarding hazards and identities of the chemicals they work with, and reduces the incidence of chemically-related occupational illnesses and injuries.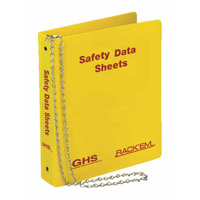 Get your SDS binders, centers and more from Safety Emporium.
With the publication of HCS 2012, OSHA incorporated many elements of the Globally Harmonized Standard (GHS) and made a number of important changes over the previous version, HCS 1994. As a result, Material Safety Data Sheets (MSDS) are now simply called Safety Data Sheets (SDS). HCS 2012 specifies an expanded list of *required* elements that must be on an SDS as well as (for the first time) requires all SDS's to be in a standard format which ensures consistency in communicating hazard information.
The major changes to the HazCom standard and SDS's and the impact on employers and employees is discussed in our GHS entry - these are profound and important, so we recommend you read those. A comparison of the 1994 and 2012 HCS is available which strikes out the old language in red, inserts new language in green, and has additional commentary on each section.
Further Reading
Additional definitions from Google and OneLook.
---
Entry last updated: Saturday, January 7, 2023. This page is copyright 2000-2023 by ILPI. Unauthorized duplication or posting on other web sites is expressly prohibited. Send suggestions, comments, and new entry desires (include the URL if applicable) to us by email.
Disclaimer: The information contained herein is believed to be true and accurate, however ILPI makes no guarantees concerning the veracity of any statement. Use of any information on this page is at the reader's own risk. ILPI strongly encourages the reader to consult the appropriate local, state and federal agencies concerning the matters discussed herein.