Your purchase supports this resource!
---
Harriet E. Brisson
---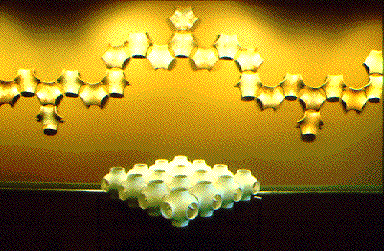 ---
Stoneware wood-fired
15"x 15"x 3"
1993
---
---
detail
---
Schwartz Surface Unit
Artist Statement
Harriet E. Brisson
Brisson Studio
31 Pond Street
Rehoboth, MA 02769
e-mail - hbrisson@grog.ric.edu
I believe that it is essential for the arts and sciences to be integrated as they were in the past. There is great potential for exchange and development of ideas through their interaction. This could be mutually beneficial to the artist and the scientist, whether they were working in collaboration or independently.
My interest in this integration led to my approaching ceramics through an exploration of mathematical forms. I began with installations of tiles that may be extended indefinitely to cover a flat surface. I investigated polyhedral that close pack and represented naturally occurring crystalline matter.
Now I am utilizing the mathematically derived Schwartz Surface that curves continuously in all directions to create a form that divides space in half. The space between the forms is identical to the form itself. This is shown in my s1ide where or,e form has been placed in the space between the four that meet at their circular openings. If one were to enter the form here, they would find it impossible to move into the other half of this space. I find this intriguing -- magical.
The ever curving form of the Schwartz Surface can best be made of clay because of its inherent plasticity. Slide #2 is of a one-eighth section of the Schwartz Surface, while slide #2a is an installation of 32 of these sections displayed to show how, if they were hinged they could be folded into four complete Schwartz Surfaces. This piece is stoneware fired in a wood kiln and glazed by the ash falling on it during the firing. It brings together the elements of chance that results in fuel burning kilns and the highly structured mathematical form. It is the marriage of the integration of art and science in my work.
---
Resume
HARRIET E. BRISSON
P.O. Box 85
Rehoboth, MA 02769
EXHIBITIONS:
1994 - "Let There Be Light,'' invitati0nal exhibition of glass, neon and holography, Bristol Art Museum. October 28 - November 13.
- "la premiere exposition en relation avec le monument au poete inconnu," Trois Rivieres, Quebec, Canada, October 2-31.
1993 - "Bay State C1ay, lnvitalional Exhibition, Fitchburg Art Museum, Fitchburg, MA, April - June.
1992 - "All Fired Up: Clay Art of the Region," Invitational Exhibition, Bristol Art Museum, Bristol, RI, March - April. 1991 - "Biennale internazionale di Ceramica Contemporanea," Invitational, Galleria d'Arte Diagramma/Studioeffe, Grottaglie. Italy, September.
1990 - "III. World Triennial Exhibition of Small Ceramics," Gradec, Zagreb, Yugoslavia. Honorable Mention.
1989 - "L'occhio di Horus: Itinerari nell'immaginario matematico." Opened in Bologna, then traveled to Parma, Milan, Naples, ending in Rome; Invitational Exhibition sponsored by Istituto della Enciclopedia Italiana; - "46th Concorso Internazionale della Ceramica d'Arte," Palazzo della Esposlziona, Faenza, Italy.
1988 - "Advanced Structures Around the World," Organized by Syracuse University for Exhibition at the Everson Museum of Art, Syracuse, NY; traveled to West Point, 1989 and Graham Foundation, Chicago.
1987 - Dimensionalism: Advanced Interdisciplinary Art," Gallerla Pallavicini, Casino dell'Aurora, Rome, Italy.
1986 - "Infinite Structures,' Solo Exhibition, Bannister Gallery, Providence, RI; - "Neon: An Exhibition in Light by thirteen New England Artists." Newport Art Museum, Newport, RI
1985 - "International TELIC III '85," Invitational Exhibition, Art Research Center, Kansas city, MG
1984 - "Hypergraphics 1984: Visualizing Higher Dimensions,' Rhode Island School of Design, Woods-Gerry Gallery, held in conjunction with "Flatland 1884'' Symposium at Brown U., Providence, RI; - "Innovations 1984: Clay and Glass," Bannister Gallery, Providence, RI; - "Raku and Smoke," Invitational Exhibition, Newport Art Museum, RI
1983 - "Surface Design Invitational Exhibition," Southeastern Massachusetts University Gallery, South Dartmouth, MA
1982 - "Energy Art," National Juried Exhibition, Foothills Art Center, Golden, CO; - 'Innovations/Crafts '82," Bannister Gallery, Providence, RI
1981 - "Hipergraficos," Sala de Exposiciones del Colegio Oficial de Arquitectos de Valencia, Valencia, Spain; - "Hypergraphics V," Bannister Gallery, Providence, RI
1980 - "2 + 1 + 2 = 11," LYC Museum and Art Gallery, Cumbria, England. - "Technical Innovations in Metal and Clay," Juried Exhibition, Bannister Gallery, Providence, RI
---
Go to List of Artists