Your purchase supports this resource!
---
Bill Buckner
---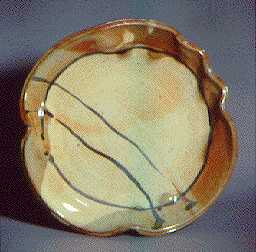 ---
Shino Platter
Thrown and Altered Stoneware
12"x12"x2.5"
1994
---
Artist Statement
Bill Buckner
1095 Monroe Drive, NE
Atlanta, GA 30306-3665
(404) 874-4171
couwbb@gsusgi2.gsu.edu


Bill grew up in Miami, Florida. His first exposure to ceramics was a job casting commercial molds at the age of 14. In high school, he bought a homemade kickwheel and a used kiln. The kiln was installed in his bedroom. He used to throw glowing raku pots out the window to his little brother who would catch them in a bucket of straw. Surprisingly, the house still stands today!

I spent years learning to make tight, perfect pots. But, I am now working to reverse that trend and unlearn everything in an effort to make fresh pots.

The intimacy of use is an important aspect of my work and helps define "functionality" for me. The tactile qualities of surface also give me great pleasure. So, hopefully, my pots invite touching.

I have great appreciation for marks the flame contributes to the clay, and I strive to use the kiln as intimately as I would the wheel or any other tool in studio."

Bill studied ceramics, metals, and enameling at Florida State University and metalsmithing at Indiana University.

A devoutly religious person, Bill prays and makes burnt offerings to the kiln gods regularly.
---
Go to List of Artists