Your purchase supports this resource!
---
Michelle Coakes
---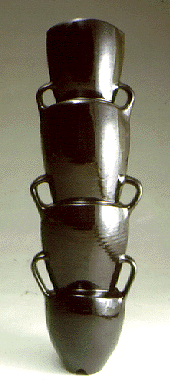 ---
Empire Vase
Low-fired earthenware, thrown and altered
22"x 7"x 4"
1992
---
Artist Statement
Though I have always considered myself a "functional potter" much of my current work is more sculptural in nature. Almost all my work begins on the potters' wheel and is later altered and assembled. 1 have seldom strayed too far from the ideas and issues associated with the "vessel."
The work included here represents the two different faces of my work in clay. On the one hand, I continue to make very functional and affordable pottery intended for use. I also have been, for some time, exploring the possibilities of form with two particular forms: the teapot and the "stacked" vase. Because each is fairly complex in their own way, they offer many possibilities for changes and adaptations. Most recently, the "stacked" vase forms have evolved into "heads" which are inspired by Cycladic figures. Sometimes formal and sometimes humorous, the forms continue to evolve depending on my moods and concerns.
While the form is my primary concern with the work, I have done some experimenting with various surface treatments. In recent years I have fired many of the non-functional forms in anagama kilns. I enjoy the way the form itself dictates the surfaces in such a firing. Because the opportunity to fire such a kiln is quite limited, I have experimented with various other ways of dealing with the surfaces. For the "heads" in particular, I have been experimenting with ~ solid black surface, reinforcing the idea that the form is my real interest. Most recently, I have been utilizing a rich, black clay body, needing no glaze al all.
I tend to work in series, in both the functional and non-functional pieces. I find that this approach works well for me, allowing me to explore various possibilities that a particular form has to offer. While working on one piece, I am often thinking of what I will change on the next piece. The feeling that one piece "flows" into the next makes working in the studio such an enjoyable experience.
---
Resume
MICHELLE D. COAKES

1267 Cabell Drive
Bowling Green, KY 42104
Home: (502) 781-4796
Work: (502) 745-5886

EDUCATION

1987-88 Special Student, Ceramics, Wichita State University, Wichita, KS.
1987 M.F.A.. Ceramics, Northern Illinois University, DeKalb, II .
1985 M.A., Ceramics, Northern Illinois University, DeKalb, IL.
1982 B.F.A., Ceramics, Northern Illinois University, DeKalb, IL.


EXPERIENCE

Currently: Assistant Professor
Western Kentucky University
Bowling Green, KY

1989-91 Artist-in-Residence, Florida Gulf Coast Art Center, Bellair, FL
1988-89 Ceramics Technician, Wichita State University, Wichita KS
1986-87 Instructor, Highland Community College, Freeport, IL
1982-83 Eckels' Pot Shop, Bayfield, WI

RELATED EXPERIENCE

1993 Curator, "Contemporary Traditions: Work of Kentucky's Craftspeople", Kentucky Museum, Bowling Green, KY
1993 Studio Assistant, Haystack Mountain School, Deer Isle, ME
1993 Curator, "Under 40: National Crafts Invitational" Fine Arts Gallery, WKU
1992 Instructor, Arrowmont School, Gatlinburg, TN
1990 Studio Assistant, Arrowmont School, Gatlinburg, TN (and 1989)
1988 Studio Assistant, Penland School, Penland, NC
1990 Juror, "Clay as Utilitarian Object " (National Juried Exhibition) Florida Craftsman Gallery, St. Petersburg, FL

WORKSHOPS, PUBLICATIONS, LECTURES, etc.:

1994 Workshop/Lecture, Berea College. Berea, KY.
1993 Workshop/Lecture, Western Kentucky University's Women's Conference, featured speaker
1993 Lecture, Eastern Kentucky University, Richmond, KY
1992 Lecture, Midway College, Midway, KY
1992 Ceramics Monthly Poster, Work represented on annual poster
1991 Workshop/Lecture, Broward Community College, Fort Lauderdale, FL
1991 Workshop. Art Center of St. Petersburg, FL
1991 Article/Review of participation in exhibit, Ceramics Monthly, (November)
1991 Lecture, "Blue Moon, White Heat" at Art Center of St. Petersburg, FL
1991 Panelist, "Year of the Craft" Center for the Arts, Vero Beach, FL
1990 Panelist, "Ceramics in a New Decade" NCECA Conference. Cincinnati, OH
1989 Article, NCECA Journal, "Topical Discussion: What Makes a Good Pot?"
1986 Article, Ceramics Monthly, "Can Apprenticeship Survive?" (December)