Your purchase supports this resource!
---
Dave & Boni Deal
---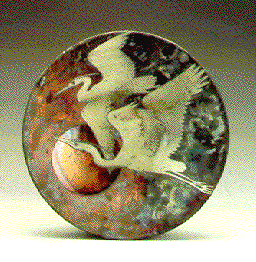 ---
Heron Wall Platter
Wheel thrown, incised, glazed, raku fired
22"x 22"x 4"
1994
---
Artist Statement
Dave & Boni Deal

We don't really have a verbal artists' statement. Basically we make pottery because we like to make pottery. Our artwork is not used as a means to convey political or social messages. Our intent is to create work that brings beauty and enjoyment to the owners' home or business environments. The imagery evolves from organic nature-oriented themes in attempt to reflect and give honor to God's creations. We strive for classic forms that are timeless and universal and can enhance a variety of architectural interiors.

We use the Raku process because we enjoy the dramatic and exciting firing experience and because of the contemporary-yet-ancient look that the smoke and flame of Raku can impart into the distinctive crackled glazes, smoky tones, and metallic accents.

Living in the Cascade Mountains of Washington State, we transpose native Pacific Northwest plants, geology, and wildlife into pottery designs. Dave forms pots on the wheel, and works with Boni on design and drawing in the clay.
---




Resume



DAVE & BONI DEAL

TYPE OF CERAMICS Dave and Boni Deal produce decorative Raku pieces for 
homes and businesses. Their large classical forms with original surface 
treatment are shown in galleries and collections throughout the country.



EDUCATION & WORK EXPERIENCE
Dave: Clark College, Vancouver, WA, A.A. in Art and Ceramics, 1972
Boni: Clark College, Vancouver, WA, A.A. in Art, 1989; Portland State 
University, Portland, OR, B.A. with honors, in Graphic Design, 1992

Dave has been employed full-time as a studio potter since 1972. The Deals 
periodically give workshops for colleges and art centers. Both attend 
workshops from eminent ceramic artists to augment education and skills.

PUBLIC ART COLLECTIONS


"Heron Urn" Portland Opera Association Lobby, Portland, OR;
"Cord-Wrap Vessel" Salem Transit Mall, Salem, OR;
"Triangular Cord-Wrap", Oregon Potters Association Permanent Collection, 
Portland, OR;
"Maple Leaf-Print Vessel", Keicho Ltd. Corporate Collection, Tokyo, Japan;
"Fern Vessel", Oregon Potters Association, Permanent Collection, Portland, 
OR;
"Raku Urns", Vancouver City Hall, Vancouver, WA

PUBLICATIONS/ HONORS/AWARDS


-Robert Piepenburg's text Raku Pottery, 1991, pp. 104-5. 
-Ceramics Monthly Magazine, February 1989, pp.71 -73. 
-Pacific Northwest Arts & Crafts Fair 1989, 
-"Michael Hutton Memorial Award". 
-Oregon Potters Association 1972 Jurors' Award, "Best of Show". 
-Pacific Northwest Arts & Crafts Fair 1972 "Award Winner". 
-American Craft Magazine, October/November 1989; p.78. 
-"Northwest Artists Illustrated", '/2-hr. TV show about Deal pottery on Public 
	Broadcasting 1985, 1986. 
-Showcase '85, Oregon Potters Association "Members' Choice Award".

SELECTED EXHIBITIONS
 Solo shows at: 
-FireWorks Gallery, Seattle, WA 
-The Real Mother Goose, Portland, OR 
-The White Bird Gallery, Cannon Beach, OR 
-Northwest Craft Center, Seattle, WA 
-The Clark College Index Gallery, Vancouver, WA 
-EarthenWorks Gallery, La Conner, WA, 

Group shows at: 
-Image Gallery, Portland, OR 
-The Portland Art Museum, Portland, OR 
-The Tacoma Art Museum, Tacoma, WA 
-The Bellevue Art Museum, Bellevue, WA 
-Oregon School of Arts and Crafts, Hoffman Gallery, Portland, OR 
-Contemporary Crafts Gallery, Portland, OR 
-The Lawrence Gallery, Sheridan, OR 
-Sylvia Ullman American Crafts Gallery, Cleveland, OH 
-The Clay Studio, Philadelphia, PA Baltimore Clayworks, Baltimore, MD 
-The Clay Pot, Brooklyn, NY OPUS II, New York, NY;