Your purchase supports this resource!
---
Mary Engel
---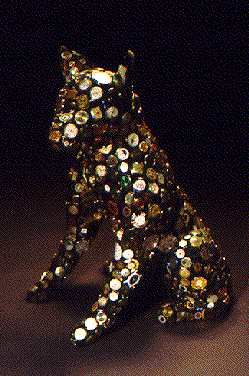 ---
Watch Dog
Ceramic and found objects
13"x 32"x 14"
1993
---
Artist Statement
Thirty five thousand years ago, the first intentional burials with ritual obJects occured, and with them the first expressions of hu~an faith appeared. A predominant burial inage was the aninal. The use of ritualized animal images has had enduring religious, mythic and aesthetic significance. The animal image, (especially the dog) is central to my work and philosophy. For me, the animal image symbolizes a bridge between the rational world of humans and the instinctual world of nature. By embellishing the animal forms with found objects, inspired by African and Southern "memory Jars", I seek to create a magical sense of time, memory and place.
---
Resume


MARY ENGEL
256 Georgia Drive
Athens, GA 30605
706-549-6877

EDUCATION

1993       Master of Fine Arts
               University of Georgia
               Athens, Georgia

1988	   Bachelor of Science
               Illinois State University
               Normal, Illinois


ONE AND TWO PERSON SHOWS


1995		Two Person Show
		Macon Museum of Arts and Sciences
		Macon, Georgia

1993		One Person Show
		Dorothy McRae Gallery
		Atlanta, Georgia

1993		"Sixth Sense"
		Georgia Museum of Art
		Athens, Georgia

1993		M.F.A. Exhibition
		Visual Arts Gallery
		University of Georgia
		Athens, Georgia

1992		Two Person Show
		Visual Arts Gallery
		University of Georgia
		Athens, Georgia