Your purchase supports this resource!
---
Marian Haigh
---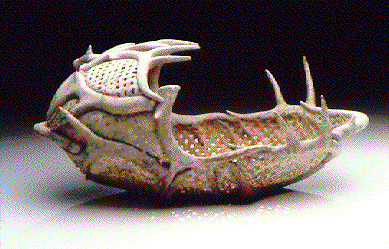 ---
Cradle
Handbuilt earthenware, press molds, glazed and smoke-fired
7.5"x18"x11"
1992
---
Artist Statement
My work is a response to observing the rhythms and cycles of the natural world around me. From the shorter rhythms of seasons to the almost timeless cycles of stones and mountains I find endless shapes, textures, and fragments that echo the process of life, death, and rebirth. I use press molds of deer antlers, stones, and fossils to repeat shapes that form the building blocks for my vessels. Within this framework I seek to express feelings I don't often understand—perhaps longings for strength and beauty or the desire to show painful steps I am trying to master or interpretations of numinous dreams that seem like a gift.
---
Resume


MARIAN HAIGH

2600 Bridle Path; Austin, TX 78703
(512) 477-6112


Date and Place of Birth:     October 8,1951; Pittsburgh, Kansas
Education:             B.F.A. from Arkansas State University, 
Jonesboro, Arkansas, 1973

SELECTED PUBLICATIONS

"Clay Baskets and Electric Smoke Firing," Ceramics Monthly, September 1990.

"Gallery," American Crafts, June/July 1989.

"Portfolio," American Crafts, February/March 1988.

"The basketmaker 's Art: Contemporary baskets and their Makers Mark Books," 1987.

"Gallery," American Crafts, April/May 1985.

"By Design," Metropolis - The Architecture and Design Magazine of NY; 
	April 1984.

"The New Basket: A Vessel for the Future," Brainerd Art Gallery, State 
	University College of Arts and Sciences, Potsdam, NY, 1984.

"Other Baskets," Fiberarts, August/ September 1982.

"Gallery," American Crafts, August/ September 1982.

GALLERY ASSOCIATIONS

-The Blue Heron, Deer Island, Maine
-Worth Gallery, Taos, New Mexico
-Arkansas Arts Center, Little Rock, Arkansas
-Arkansas State University Museum, Jonesboro, Arkansas
-Sprint Services, Austin, Texas; Independence, Missouri; 
	Charlotte, North Carolina;
-Sacramento, California; Baltimore, Maryland
-Martin Museum of Art, Baylor University, Waco, Texas

SELECTED EXHIBITIONS

1993	"Texas Clay Il," invitational exhibition with symposium. Curator: 
		Michel Conroy. Touring exhibition with catalog.

	"Earthen Vessel, Celestial Journey," three-person exhibition, 			University Gallery, Hooper-Schaefer Fine Arts Center, Baylor 		University, Waco, TX. Curator: Paul McCoy.

1992	"They Came by Boat," Elsa Mott Ives Gallery, New York, NY. Curators: 
		Paul Bridgewater and Laura Kruger.

1991	"New Works: Ceramic Vessels," one-person exhibition, Arkansas State 
		University Museum, Jonesboro, AR.

	"Feats of Clay IV," Lincoln Arts and Cultural Foundation, Lincoln, CA. 
		Juror: Rudy Autio. Catalog.  Awarded purchase prize.

199	"Marian Haigh: Review," one-person exhibition, Popularis, 
		San Antonio, TX.

	"Basket Weave '90," The Dairy Barn, Athens, OH. Touring exhibition 		with catalog. Jurors: Michael Davis, John McGuire, Sandra Blain.

	"Baskets and Beyond," invitational, California Crafts Museum, 
		San Francisco, CA.