Your purchase supports this resource!
---
Kevin W. Hughes
---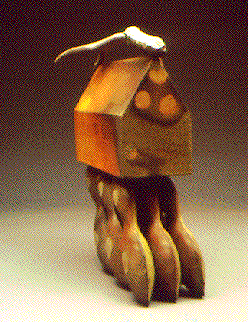 ---
side view
---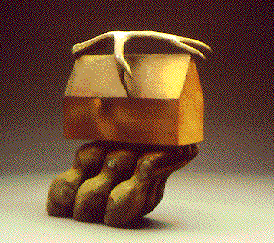 ---
Life Along The Wabash
Wood-Fired Stoneware
23"x21.25"x10"
1994
---
Artist Statement
Through my work I want to examine the concept of relationships: To make a visual exploration of how people, like items of different materials, relate to one another. I want to play on the similarities and differences of forms and their materials. These items that I make, find or buy to manipulate become representations of the relationships we have. My current work is the combination of formal elements and clay, resulting in closed volumetric forms. The house form functions on different levels of meaning for me. Its basic meaning is that of security from the trials and tribulations of life, a refuge where I can find love and understanding. Secondly, it represents a symbol of strength, a timeless reminder of the bonds of family and friends. Finally, it functions as a figure in its vertical orientation. I feel that the house form can harbor and exhibit some of the same emotions that we can: That of protecting life and providing love and warmth. The use of gourds, squashes, vegetables, and tools in the form of Indian artifacts pays homage to a great culture, past and present, and to Mother Earth which represents strength, security, and fertility. The artifacts are a selection of tools that have direct links to the antique tools I employ in my work. I hope that this work exhibits a ser.si~iYity to fo-rm, space, and balance which are formal elements essential to the relationships among my pieces. Like the art I make, the relationships that I have depend upon the balance of events in my life. These events will continue to shape and redefine my life as well as my art.
---
Resume


KEVIN W. HUGHES
323 Dubois Street
Vincennes, IN 47591
(812) 886-0913

EDUCATION:

1990             Master of Fine Arts Degree, Indiana University
		 at Bloomington, Major- Ceramics

1987             Bachelor of Arts Degree, The School of the
		 Ozarks, Point Lookout, Missouri

TEACHING EXPERIENCE:

1991 - present   Art Instructor for "Accent on Kids," a summer program
                 Vincennes University, Vincennes, Indiana

1990 - present   Assistant Professor of Art,
                 Vincennes University, Vincennes, Indiana

1988 - 90        Assistant Instructor of Art, Fine Arts
                 Foundation Programs, Indiana University, Bloomington, Indiana


PROFESSIONAL EXPERIENCE:

1987 - 88        Graduate Assistant in Ceramics for the Henry Radford Hope
                 School of Fine Arts, Indiana University, Bloomington, Indiana

1988, 87, 86     Silver Dollar City, Inc., Marvel Cave Park, Missouri,
                 Summer Position, Potter: conducted demonstrations of wheel
                 throwing, assisted in firing kilns, made glazes, priced
                 inventory and maintained working area

1984 - 86        The School of the Ozarks, Art Department, Point Lookout,
                 Missouri, Studio Assistant: Responsible for maintaining a
                 current inventory, the mixing of clay and glazes, the
                 loading and firing of kilns, maintaining kilns, monitoring
                 power tools, and for general studio maintenance

SELECTED EXHIBITIONS:

1994	Indiana Directions '94, 
	Indianapolis Art Center, 
	Indianapolis, IN

1994	"Creative Synectics, 
	An Art Place Inc. Studios/Gallery, 
	Chicago, IL

1994	"Culture and Agriculture, 
	New Visions Gallery, Inc., 
	Marshfield, WI

1994	"Ceramics Invitational, 
	Student Exhibition Center, 
	Southwest Missouri State University, 
	Springfield, MO

1992	Solo Exhibition, 
	Boger Gallery, 
	College of the Ozarks,
	Point Lookout, MO