Your purchase supports this resource!
---
Rick Malmgren
---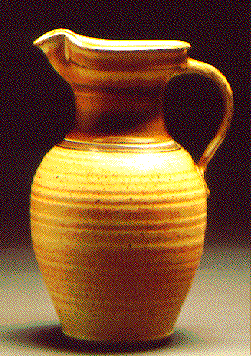 ---
Pitcher
Thrown Stoneware
13"x 7"
1994
---
Artist Statement
Presence and the Past
by
Rick Malmgren
Why do I make pots? I've not a clue, really. I've nothing in the way of a concept or a theme or an idea, or a point that I seek to make. I only wish for my pots to be present, direct, accessible, with nothing hidden. There is no place that I would like for you to go with them, only to be more aware of where you are in the moment as you look at them and touch them
The past, though, I can tell you about that. I am one of the rare ones in this culture, the son of a potter. There are a few of us, but although we hardly go with most of the tradition of clay in human history. But that background explains little for me, as I avoided clay and art carefully and consistently all through my youth. I studied science. As a high school student, some 26 years ago, I spent my aftemoons working at the National Cancer Institute conducting some of the earliest experiments into the role that sex hormones play in the development of breast cancers. But my heart yearned to look into the bigger, and in some ways simpler, questions about what it means to be human. The questions that science raised were much too mechanical, and the answers that it gave were much too predictable.
As a young adult I came to clay because I found working with it was always new, always challenging, always difficult, always on the edge. I have never felt that I "knew how to throw." Materials and equipment seem to have their own life; they shift and change with time. Failure is a constant ally, showing the way, encouraging me.
Being a potter has taken me to the question of what it is to be human. How do we make sense of our lives? Fifteen years of near isolation in the studio brought me to a study of zen. It has been a study in presence, a study in quietness. My work has gotten quieter the surfaces draw life from the vitality of the raw materials now - less from my efforts at embellishment.
I can never pass a stone wall without some feeling of connection. Pots for me are in some ways moveable, ever changing stone walls. They are constantly reinventing themselves. I am constantly rediscovering them. Sometimes they are solid, sometimes they are self conscious. They always have an unquestioned stillness and silence. Looking at them, holding them, using them, they ground me and offer a settling ease.
My simple vessel forms are accessible. One need know nothing to enjoy them. Nothing is concealed. They are simply, easily and openly present. Like the stone wall, they connect one in the world, and in time, through the slightest and simplest of contacts.
---
---
Resume


RICK MALMGREN
8308 Jacobs Road
Severn, Maryland 21144
(410) 674-73 1 8

EDUCATlON
1977	Antioch University - Master of Fine Arts, Ceramics, Columbia, 	
	Maryland
1974	Penland School of Crafts - Spring Concentration, Ceramics, Penland, 
	North Carolina
1972	Cornell University - Bachelor of Arts in Sociology with Distinction in 
	all Subjects, Ithaca, NY

TEACHING EXPERIENCE
1991 	-present: Lecturer - Anne Arundel Community College, Arnold. 
	Maryland - teaching Basic Drawing l, Fundamentals of Design and 
	three levels of Ceramics

1990 	-present Fine Art Instructor - St. John's College, Annapolis. Maryland - 
	teaching the Language of Vision an Introduction to Design and 
	Drawing, and three levels of Pottery Workshops

1991-92	-Studio Manager - 3 Dimensional Design, Sculpture}e and 
	Ceramic Studio - Anne Arundel Community College. 
	Arnold, Maryland

1975 - present Workshop leader - design, throwing. decorating, and studio 
	management - half-day demonstrations to week-long workshops

1975-75	-Ceramics Instructor - Antioch University, Columbia Maryland

1974- 1975   Instructor - pottery program with retarded adults, Providence 
	Center, Annapolis, Maryland

EMPLOYMENT BACKGROUND
1975	-present studio  potter, Juror, and lecturer
1973	-Potter's Apprentice - Dan Gehan, Acworth, New Hampshire
1972-73	-Supervisor - Sheltered workshop, Metropolitan State Hospital, 
		Waltham, Massachusetts

EXHIBITIONS - (abbreviated list)
1994 	-Mid-Atlantic Crafts Exhibition. Towson State University, Towson, 
	Maryland
1993	-NCECA Liberal Arts College Faculty, Concord College, Athens, West 
	Virginia
1992	-Annapolis Potters Guild Show, Maryland Federation of Art, 
	Annapolis, Maryland
1991	-Depiction/Prescription, Marlboro Gallery, Prince Georges Community 
	College
1990	-Artisans Invitational, Columbia Art Center, Columbia, Maryland
1987	-Teapot Invitational, Tomlinson Craft Collection, Baltimore, Maryland
1983	-Rick Malmgren - Potter, Maryland Federation of Art, Annapolis, 
	Maryland
1981	-Creative Craft Council Biennial Exhibition, Touchstone Gallery, 
	Washington DC
1979	-Craft Art A Washington Exposition, The Corcoran School of Art

PUBLICATIONS
"More Glaze Calculation Software," Ceramics Monthly. March 1994
"Electronic Communications and Ceramics" Ceramics Monthly, 
	November 1993
"Royce Yoder Prolific Potter," Ceramics Monthly, March 1993
"Glaze Calculation Software," Ceramics Monthly, January 1992

PROFESSIONAL ORGANIZATIONS
1992-94	-President, Annapolis Potters guild, Member since 1975
1974	-present: Artist Craftsman Member, Washington Kiln Club
1991	- present Member, National Council on Education for the Ceramic Arts 
1995	-Panelist: "Ceramics in a Virtual World"
		 a panel demonstration and discussion
1992 	-present Member, College Art Association