Your purchase supports this resource!
---
Yasuhiro Okuma
---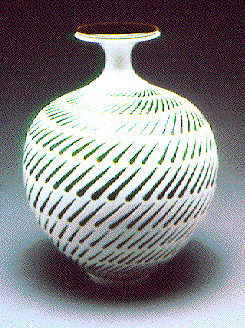 ---
top view
---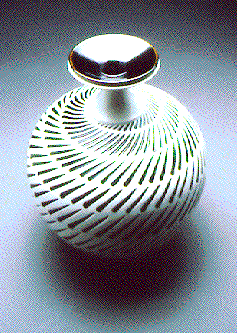 ---
Spiral Carving Bottle
Inlay, glazes, carving, double lips, c/10 reduction
10.5"x 6.5"x 6.5"
1994
---
Artist Statement
Clay is a discipline and a form of therapy for me. Clay is like a mirror which reflects my true- self. As I grow, my work]. follows me. I can see more things in my life. It is like a moment of wearing a new pair of glasses.
I found that altering pots helped me to identify myself. I reform pots by pinching cutting , folding, pushing, and hand trimming. With these techniques I am trying to create a flowing movement on forms. Slip texture and carving simply follows the movement of the alternation. I like to present an organization of elements which are continuous and harmonious.
My inspiration comes from things of everyday life, from something as simple as wavy potato-chips to the complexity of nature, or historical as well as contemporary art work. ceramics is one of the oldest forms of art. It is amazing that you still see new forms every year. I think the best work of art has no boundaries of time and space.
Once I asked an old potter "What is the most single important thing about making pottery" And he simply replied, "Enjoy it!" Ever -since, I've tried to catch up to him by enjoying the making of pottery.
---
Resume


YASUHIRO OKUMA
P.O.Box 233
Edinboro, PA 16412
814-734-514
Professional Objective.

Production of exquisite functional pottery with excellent craftsmanship.

EDUCATION

1994 Present	Candidate for Master of Art in Ceramics,
			Minor in Jewelry.
			Edinboro University of Pennsylvania.
			Edinboro, PA 16444.

 1993 May	Bachelor of Art: Psychology.
		Bachelor of Art: Sociology.
		Edinboro University of Pennsylvania,
		Edinboro, PA 16444.

EXHIBITIONS AND AWARDS

1994	Solo Exhibition. "Searching for- Identity."

	-Sycamore Gallery, Erie, PA
	-Student Show, Bruce Gallery, Edinboro, PA
	-Student Art Leaque Merit Award.
	-Westminster College. Edinboro graduate
	-Students Invitational Show? New Wilmington,PA
	-Erie Summer Festival of Art: Panorama, Erie, PA

1993	Student Show, Bruce Gallery, Edinboro, PA
	Steven Kemenyffy Award.
	Erie Summer Festival of Art: Panorama,
	Erie, PA. Festival Award

1992	Student Show, Bruce Gallery, Edinboro, PA
	Erie Summer Festival of Art- Panorama
	Erie, PA. Festival Award
	Solo Exhibition, Bates Gallery, Edinboro, PA

 1991	Student Show, Bruce Gallery, Edinboro, PA
	Erie Summer Festival of Art: Panorama