Your purchase supports this resource!
---
Colby Parsons-O'keefe
---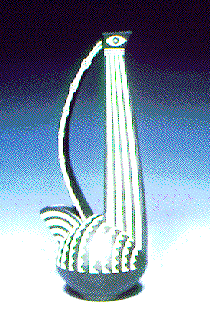 ---
Bird of Paradise
Burnished porcelain with black slip
17"x 7"
1993
---
Resume


COLBY PARSONS-O-KEEFE
835 Campbell Ave
Hamiiion, OH  45011
( 513) 856-9716


EDUCATION

Undergaduate
	Miami University, School of Interdisciplinary
	Studies. Oxford, OH.
	Bachelor of Philosophy, May 1991.  Focus inFine Arts, emphasis in ceramics

Graduate
	Southern Illinois University, Carbondale, IL.
	Master of Fine Arts program, starting in January, 1995


WORK EXPERIENCE  
	Potter, The Earthen Vessel, Madiera, OH.
	August, 1991-December, 1994 
	Responsible for production of wheel-formed and
	drape-molded functional earthenware pieces.