Your purchase supports this resource!
---
Nan Smith
---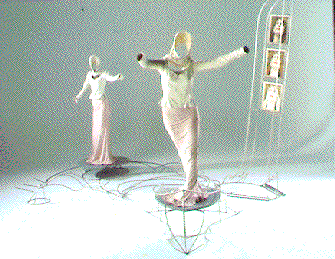 ---
detail
---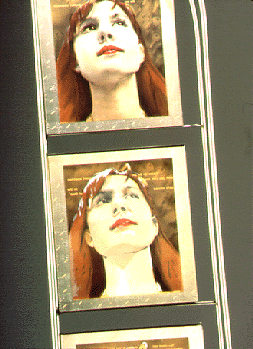 ---
Visionary
Cast gypsum, airbrush earthenware tiles, steel
108"x 180"x 216"
1994
---
Artist Statement
A strong interest in the spiritual existence "within" provides the impetus and the conceptual basis for the figurative sculptures, wall reliefs, and installations; metaphors for aspects of the human condition. A sensibility for those things, not seen but felt, is at the core of the work. A conscious effort is made to synthesize visual information to create an unusual series of symbolic imagery. Realism is manipulated to create a sense of surprise. Unusual visual syntheses, strange juxtapositions; surreal, imaginary, and dreamlike, are a major part of the visual language.
In the most recent figurative sculpture and wall reliefs, the superimposed illusionistic paintings allude to imagined realities seemingly projected as colored light onto the surface of the sculpture. A translucent veil, sometimes a "window" appears through which an interior view is reflected and/or seen. A state of mind; a series of memories and thoughts, are reflected onto the surface making the invisible visible.
Some of the wall reliefs contrast patterned areas with a painterly means of representing realistic imagery. Patterns often evoke a feeling of things in motion. Patterns generated from fractals; mathematical diagrams of infinitely changing or dynamic systems, are used as a means of representing the concept of infinity. Photo realistic airbrushed paintings clarify memories, through portraits, of those often thought about though gone.
My goals with each sculpture are to engage the viewer mentally through the conceptual theme, visually through an unpredictable aesthetic formulation, and spiritually through the serene and meditative figurative imagery.
---
---
Resume


NAN S. SMITH

Home:  
2310 NW 142nd Avenue        
Gainesville, FL 32609

Office:  University of Florida
Department of Art, 302 FAC
Gainesville, FL 32611
(904) 392-0211 or  (904) 485-2942 
(904) 392-0228


EXHIBITIONS

One Person:

-1990 Patrons' Gallery, Hand Workshop, Virginia Center for Crafts, 
Richmond, Virginia: Inner Views: Nan S. Smith Solo Exhibition

-1985 East Campus Gallery, Valencia Community College, Orlando, 
Florida: Portravals of Faith

-1984 McQuade Gallery, Merrimack College, North Andover, 
MassachuseKs: Inner Dimensions: Recent Sculptural Installations

-1983 Sampson Gallery, Stetson University, DeLand, Florida: Nan S. 
Smith: Recent Installations and Ceramics

-Shillard-Smith Gallery, Florida Gulf Coast Art Center, Clearwater-
Belleair, Florida: Witnesses:  Installation bv Nan S. Smith

-1981 University Gallery, University of Florida, Gainesville, Florida: You 
GoKa Have A Dream To Have A Dream Come True, An Environmental Installation

Two Person:

-1989 Hippodrome Theater Gallery, The Hippodrome State Theater, 
Gainesville, Florida: Nan S. Smith and Lola Roppel: Sculpture and Drawing

-1986 Brevard Community College, Melbourne, Florida: Robert Skellev 
and Nan S. Smith: Graphics and Sculpture

-1985 Florida Center for Contemporary Art, Tampa, Florida: J. Tomas 
Lopez and Nan S. Smith: Photography and Sculpture

Group:

-1994 Lill Street Gallery, Chicago, Illinois: Currents '94 (Jurors: Ruth 
Kohler, Director J.M. Kohler Art Center, Michael Monroe, Director, Renwick Gallery, William Struve, Owner, 
Struve Gallery)

-Elan Vital Gallery, Boston, MassachuseKs: In Celebration of the 
Human Form

-ClaySpace of the South Florida Art Center, Miami, Florida: The Figure 
in Clay: Six Views (Bobrowski, Federighi, Nassise, Perrigo, Smith, Voelker)

-Jacksonville Art Museum, Jacksonville, Florida: 42nd Florida 
Craftsmen Exhibition (Juror: Roy Slade, President, Cranbrook Academy of Art)

-San Angelo Museum of Fine Arts, San Angelo, Texas: Ninth Annual 
San Angelo National Ceramic Competition (Juror: Rob Barnard)