Your purchase supports this resource!
---
Lisa Ehrich
---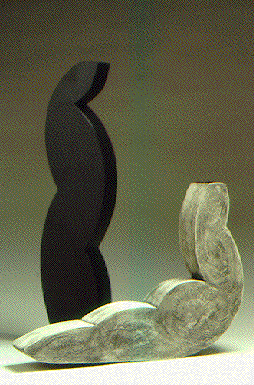 ---
detail

---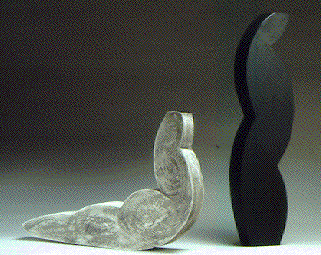 ---
Stretch Marks
Slab built, white earthenware
24"x 27"x 14"
1994
---
Artist Statement
My work is there for the viewer to quietly contermplate. My admiration for the work of Morandi with his courage to draw and paint quiet, mundane objects has inspired my subject matter and compositional approach. I share his fascination of observing such ob~ects and feel compelled to investigate the nuances in their relationships by creating my objects three dimensionally.
---
RESUME


LISA M. EHRICH
Webster Texas 10767 
Dallas, Texas 75229 
(214)352.7942

Education
		MFA University of North Texas, Denton, Texas 1978- 1981
		BFA University of Texas, Austin, Texas 1973-1978

Professional Experience

	1992-Present Brookhaven College, Dallas, Texas, Full-time 
		Faculty/Program Coordinator
	1991-1992Brookhaven College, Dallas, Texas, Interim Division
		Dean, Fine Arts
	1983-1991Brookhaven College, Dallas, Texas, Full-time 
		Instructor/Program Coordinator
	1982-1983Brookhaven College, Dallas, Texas, Adjunct Instructor, 
		Ceramics, 3-D Design
	1981-1982Tarrant County Junior College, Hurst, Texas, Adjunct 
		Instructor, Drawing
	1979- 1981University of North Texas, Teaching Associate, Drawing

Professional Experience Abroad

	1988		London, England, Drawing Instructor, Brookhaven 
			College Abroad Program
	1985		Rome, Italy, Drawing Instructor, Northlake College
 			Abroad Program 

Selected Group Exhibitions

	1994	The Exquisite Corpse, McKinney Avenue Contemporary,
 			Dallas, Texas
		Menorahs, Nancy Margolis Gallery, Portland, Maine

	1993	Clay National, NCECA, San Diego Museum of Art, San 
			Diego, CA 

	1993-95 Traveling Exhibition

		Texas Clay 11, Southwest Texas State University, San 
		Marcos, Texas 

	1993-94 Traveling Exhibition

		Cup Invitational, Artworks, Seattle, Wash. 1992
		Regional Craft Biennial Invitational, The Arkansas Arts
 			Center, Little Rock, Ark. 1992
		The Assemblage, D-Art, Dallas, Texas 1992
		Clay Invitational, Collin County Junior College, 
		Plano, Texas 1991
		The Clay Vessel, D-Art, Dallas, Texas 1991
		Excellence 90, Texas Sculpture Assoc., Plaza of the Americas, 
		Dallas, Texas 1990 Juror's Choice Award
		16th Annual National Spring Open Exhibition, TVAA Trammel 
		Crow Center, Dallas, Texas 1989
		Brook haven Faculty Exhibition, Brookhaven College,
		Dallas, Texas

	1988-Present

		Texas Clay, National Conference for the Education of the 
			Ceramic Arts, San Antonio, Texas 1986
		Facts, Fantasy ~ Form, Four Texas, Clay Artists,
		Human Arts Gallery, Dallas, Texas 1985
		Dallas Sculpture Association Annual Exhibition, Bath House 
		Gallery, Dallas, Texas 1985
		Nine Sighted, Midtown Art Center, Houston, Texas 1984
		Visions '84, D-Art, Dallas, Texas 1984
		What's New in Clay, Houston, Texas 1983
		Works in Clay, Wichita Falls, Texas 1983
		Selected Works, East Texas State University, Commerce, Texas 

	1982
		Edom Fair, Edom, Texas 1982

One or Two Person Exhibitions

		One Person Exhibition, Paris Junior College, Paris, Texas 1989
		Ceramics, Lisa Ehrich 67 Mark Trowbridge, Bee County College, 
		Beeville, Texas 1987
		Spirited Places &9 Animal Plights, Lisa Ehrich & Linda Fawcett, 
		Tarrant County Junior College, Fort Worth, Texas 1986
		New Old Compositions, University Gallery University of Texas, 
		Arlington, Texas 1981

Magazine Articles

		Ceramics, Art & Perception, "Texas Clay 11," Marla Ziegler 1994
		Ceramics, Art & Perception, "NCECA Clay National, 1993,"Susan 
			Harris 1993
		Luxury Homes, "Splendor in the Grass," and "Art En Plain Air," 
			Lisa Ehrich, Articles describing public and private 				collections of outdoor sculpture 1984

Organizations

		Texas Association of Schools of Art, Board Member
		Dallas Artists Research & Exhibition
		National Council on the Education of the Ceramic Arts
		American Craft Council
		Dallas Museum of Art
		Kimbell Museum