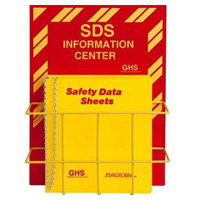 Your employees can stay informed and safety-ready with right to know stations and labels from Safety Emporium.
Definition
The United States Code of Federal Regulations (CFR) is a compilation of the general and permanent rules published in the Federal Register by the Executive departments and agencies of the Federal Government of the United States of America. It is sometimes referred to as the "United States Code", "U.S. Code" or "USC".
The U.S. Federal Register is published on each day following a government working day. It is the official daily publication for Rules, Proposed Rules, and Notices of Federal agencies and organizations, as well as Executive Orders and other Presidential Documents.
Additional Info
The CFR is constantly updated and changed as new laws are passed and old ones expire. When consulting the U.S. Code, be certain that you are using the latest edition.
References to the U.S. Code contain a reference to a title and a section. These can appear in many different formats, but all one needs to do is spot the title and section:
"22 USC 1501" refers to Title 22, Section 1501.
"2 USC Sec. 285b" refers to Title 2, Section 285b.
"49 CFR 173.124" refers to Title 49, Section 173.124.
"CFR 29 1910.1200" refers to Title 29, Section 1910.1200.
SDS Relevance
Many of the items discussed on a Safety Data Sheet (as well as the SDS themselves) are defined in the U.S. Code. This includes the activities of OSHA, DOT and other federal agencies such as the Environmental Protection Agency (EPA).
To search the U.S. Code, follow the links given below.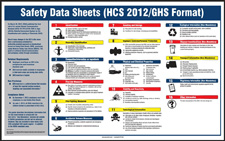 Ensure your workers are trained with safety posters and more at Safety Emporium.
Further Reading
See also: CERCLA, OSHA, RCRA, SARA.
Additional definitions from Google and OneLook.
---
Entry last updated: Sunday, July 3, 2022. This page is copyright 2000-2023 by ILPI. Unauthorized duplication or posting on other web sites is expressly prohibited. Send suggestions, comments, and new entry desires (include the URL if applicable) to us by email.
Disclaimer: The information contained herein is believed to be true and accurate, however ILPI makes no guarantees concerning the veracity of any statement. Use of any information on this page is at the reader's own risk. ILPI strongly encourages the reader to consult the appropriate local, state and federal agencies concerning the matters discussed herein.