Definition
A clastogen is a substance that cause breaks in chromosomes that result in the gain, loss, or rearrangements of chromosomal segments. Clastogens can also cause sister chromatid exchanges, the interchanges and reunions that occur during the processes of mitosis or meiosis (DNA replication).
Additional Info
Clastogens break and/or damage your DNA, the code that determines the function of the cells in your body. If a damaged cell dies, then there may be no further health effect. But if the altered/damaged cell's DNA still functions and is replicated (reproduced; passed on), this may lead to mutagenesis or carcinogenesis. While all gene mutations generally involve clastogenesis, the reverse is not always true - not all clastogens produce gene mutations.
Examples of known human clastogens include certain anti-cancer drugs, benzene, ethylene oxide and inorganic arsenic. X-ray and ultraviolet radiation can also be considered clastogens.
Books Available
NOTE: We may collect a share of sales or other compensation from the links in the following list: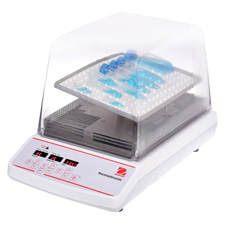 Safety Emporium has all kinds of lab equipment such as this incubating rocking shakers and more.
SDS Relevance
If a substance poses a clastogenic hazard, this information will appear in Section 11 (toxicological information) of a Safety Data Sheet. The sheet will explain how you can protect yourself from these hazards and reduce your risk in Section 8 (exposure controls/personal protection).
Obviously, any possible damage to your DNA is a Bad Thing. Treat all clastogens with the same respect you would afford a carcinogenic substance. Use proper engineering controls such as a fume hood whenever possible and always use proper personal protective equipment such as gloves or respiratory protection.
Further Reading
See also: carcinogen, cytotoxin, mutagen.
Additional definitions from Google and OneLook.
---
Entry last updated: Sunday, July 3, 2022. This page is copyright 2000-2023 by ILPI. Unauthorized duplication or posting on other web sites is expressly prohibited. Send suggestions, comments, and new entry desires (include the URL if applicable) to us by email.
Disclaimer: The information contained herein is believed to be true and accurate, however ILPI makes no guarantees concerning the veracity of any statement. Use of any information on this page is at the reader's own risk. ILPI strongly encourages the reader to consult the appropriate local, state and federal agencies concerning the matters discussed herein.