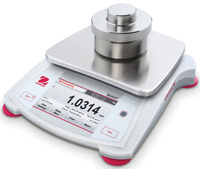 English or metric, Safety Emporium's complete line of Ohaus laboratory balances and scales will give great results.
Definition
The European Inventory of Existing Commercial Substances (EINECS) originally listed all substances that were reported to be on the market in Europe between 1 January 1, 1971 and September 18, 1981. The substances placed on the market for the first time after this target date are "new". There are 100,196 different substances in the EINECS.
EINECS numbers were assigned to each of the chemicals in the inventory.
ELINCS numbers (European List of Notified Chemical Substances) are assigned to the "new" chemicals.
EC Numbers is a term used to replace the outmoded "EINECS/ELINCS number" designation.
All of these numbers are unique to specific chemicals and have the form XXX-XXX-X where X = a digit.
Additional Info
EINECS was created by the European Community Commission Decision 81/437/EEC. While EC numbers are unique to each chemical, their relatively limited scope (106,213 out of 159,000,000+ known chemicals) makes them far less useful than CAS numbers. This shortcoming led to a new regulation requiring each chemical to have a Unique Formula Identifier (see SDS Relevance, below).
The EC Inventory is searchable from the European Chemicals Agency (ECHA) web site at https://echa.europa.eu/information-on-chemicals/ec-inventory.
SDS Relevance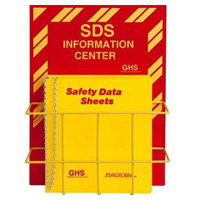 Your employees can stay informed and compliant with SDS information stations and compliance products from Safety Emporium.
Many older European Safety Data Sheets (SDS's) carry the EC (EINECS) number of the hazardous material or its components (if a number exists for them). Newer sheets must contain a numeric identifier, however, this will may or may not be an EC number; the regulation is horridly complex; see the Section 1.1 of the EU SDS guidance document under Further Reading below.
EC 1907/2006, Registration, Evaluation and Authorisation of Chemicals (REACH) is a European Union regulation concerning chemicals and their safe uses. This legislation was amended by Regulation (EC) No 1272/2008 (CLP) to incorporate elements of the Global Harmonised System with respect to Safety Data Sheets and requires a product identifier of some sort.
The current regulation covering packaging and labelling in the European Union is the Classification, Labelling and Packaging (CLP) Regulation which was enacted in 2008 and took full effect in 2017. This law requires the use of a a unique 16-digit formula identifier (UFI) on product packaging effective in 2020. By 2025, the UFI will become mandatory on the label of all products classified for health or physical hazards. At the moment, there does not appear to be a requirement to include the UFI on the SDS, so these codes may or may not appear on SDS's.
CLP replaced earlier legislation called the Dangerous Substances Directive 67/548/EEC which was deprecated on May 31, 2015 by EC Regulation 1272/2008.
EC Numbers and UFI's are European conventions so OSHA does not require them on SDS's in the US. Appendix D of HCS 2012 lists the required minimum information on an SDS and this includes CAS numbers, which are unique numeric identifiers.
Further Reading
See also: CAS, CHIP, NSN/NIIN, REACH, risk phrases, UN/NA
Additional definitions from Google and OneLook.
---
Entry last updated: Sunday, July 10, 2022. This page is copyright 2000-2023 by ILPI. Unauthorized duplication or posting on other web sites is expressly prohibited. Send suggestions, comments, and new entry desires (include the URL if applicable) to us by email.
Disclaimer: The information contained herein is believed to be true and accurate, however ILPI makes no guarantees concerning the veracity of any statement. Use of any information on this page is at the reader's own risk. ILPI strongly encourages the reader to consult the appropriate local, state and federal agencies concerning the matters discussed herein.