Definition
Threshold Limit Values (TLV's) are guidelines (not standards) prepared by the American Conference of Governmental industrial Hygienists, Inc (ACGIH) to assist industrial hygienists in making decisions regarding safe levels of exposure to various hazards found in the workplace.
A TLV® reflects the level of exposure that the typical worker can experience without an unreasonable risk of disease or injury. TLVs&reg are not quantitative estimates of risk at different exposure levels or by different routes of exposure.
Additional Info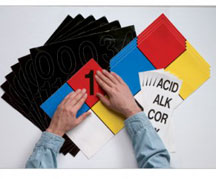 NFPA signs and kits are available at Safety Emporium.
Whereas OSHA sets regulatory exposure limits/levels such as the PEL and TWA, TLV's® are a scientific opinion based solely on health factors; there is no consideration given to economic or technical feasibility of implementing controls to keep worker exposure levels below this level. These health risks/factors are determined by ACGIH from a review of existing peer-reviewed scientific literature by committees of volunteer experts in public health and related sciences. TLV's® are not consensus standards (i.e. formulated by a broad-based committee across a particular industry), but ACGIH's opinion.
ACGIH was forced to adopt a rigorously-worded stance regarding the use of TLV's® by regulatory agencies as a result of a lawsuit filed in 2000 by the trona industry; see the first few links under Further Reading for more information.
In our opinion, while the plaintiffs raised some interesting points regarding due process issues and so-called "secret rulemaking", the implications of the suit are a blow to the timely review and incorporation of the latest peer-reviewed scientific studies into state and federal worker protection standards.
There are significant overhead expenses (including preparation for legal challenges) required to support ongoing development and maintenance of TLV's. In that regard, ACGIH's Foundation for Occupational Health & Safety (FOHS) was set up as a charitable 501(c)(3) corporation to support these efforts. Tax-deductible donations to the FOHS help ensure the continued existence of scientifically-based ACGIH® TLVs and BEIs.
SDS Relevance
Although ACGIH TLV's® themselves do not carry the force of law, 29 CFR 1910.1200 (g)(2)(i)(C)(2) and (g)(2)(vi) require some kind of exposure limit such as an OSHA PEL or TLV® to be listed on the Safety Data Sheet if such a limit is available.
TLV's and PEL's are not available for most chemicals; the absence of an exposure limit simply means that the chemical has not gone through the very rigorous and expensive scientific peer-review process that would permit conclusions to be drawn about "safe" and "hazardous" exposure levels. Unless the sheet specifically states that no danger exists, make every effort to limit your exposure through good chemical hygiene practices, workplace engineering controls and use of Personal Protective Equipment.
Further Reading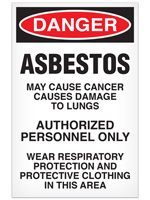 Signs, training materials and supplies from Safety Emporium can help ensure a safe and healthy workplace.
See also: ALARA, PEL and TWA.
Additional definitions from Google and OneLook.
---
Entry last updated: Monday, January 16, 2023. This page is copyright 2000-2023 by ILPI. Unauthorized duplication or posting on other web sites is expressly prohibited. Send suggestions, comments, and new entry desires (include the URL if applicable) to us by email.
Disclaimer: The information contained herein is believed to be true and accurate, however ILPI makes no guarantees concerning the veracity of any statement. Use of any information on this page is at the reader's own risk. ILPI strongly encourages the reader to consult the appropriate local, state and federal agencies concerning the matters discussed herein.