Safety Emporium for all your lab and safety needs
The Glassware Gallery
Rotary Evaporators
Introduction
Using a rotary evaporator
Empty and then replace the solvent collection flask on the unit. SAFETY FIRST! You don't want to accidentally mix incompatible chemicals.

Place your flask on the rotary evaporator. Most people use a bump bulb to prevent their material from accidentally splashing into the condenser (and being contaminated). Always start with a clean bump bulb! Our personal favorites are the CG-1319 (top, left) and CG-1323 (bottom, middle):

Click on any bump bulb below for more information or to purchase

Use a metal or Keck clip to secure your flask and your bump bulb. The green one shown below fits 24/40 ground glass joints. Similar blue clips fit 19/22 joints and the yellow ones fit 14/20 joints.

Use the speed control to rotate the flask. A typical rotavap uses a variable speed sparkless induction motor that spins at 0- 220 rpm and provides high constant torque.

Turn on the aspirator vacuum. On most models, the vacuum on/off control is managed by turning a stopcock at the top of the condenser (left side of the above diagram).

Lower your flask into the water bath. On most models, a convenient handle (with height locking mechanism) moves the entire condenser/motor/flask assembly up and down. You can also adjust the tilt of the condenser assembly. Be sure not to put the flask into a water bath that exceeds the boiling point of your solvent!! For small amounts of common solvents you don't need to turn on the bath heater.

The solvent should start collecting on the condenser and drip into the receiving flask. Some solvents (such as ether or methylene chloride) are so volatile that they will also evaporate from the receiving flask and be discharged down the drain. To prevent this you can place a cooling bath on the receiver or (on some models) use a dry ice condenser.

Once all your solvent has evaporated, release the vacuum, raise the flask out of the water bath and turn off the rotation. Remove your flask and enjoy.

Be sure to clean the bumb bulb and empty the receiving flask when you are done.
Tips, Tricks, and Best Practices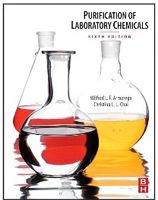 Purification of Laboratory Chemicals is one of many books and pamphlets you'll find at Safety Emporium.
Always use distilled water in your heating bath. Otherwise, scale will build up in the bath and coat the thermistor and heating coils. This is very difficult to remove and reduces the efficiency of the bath. In addition, regular tap water will promote the growth of spectacularly disgusting algae colonies, particularly during the summer months.

We haven't tried it, but Peter J Anderson has a neat suggestion for reducing the amount of evaporation from your water bath. Simply add some small plastic balls to the water bath. This reduces the surface area for evaporation and therefore the rate at which the water level drops. Thanks, Peter! If anyone else has tips to add, just let us know!

Eric J. Leopold has an easy and clever procedure for cleaning out the vapor duct and condenser on his web page, http://home.earthlink.net/~ejlmp/Evaporator.html. For best results, do this procedure on a frequent basis (after each use if you are using Nasty Things) before crud can build up and to avoid contamination of your samples.

To remove algae gunk from the inside of a coiled water condenser, remove it from the rotavap and fill the coil with a dilute nitric acid solution for a few hours. Rinse it out carefully when your are finished and be sure to follow all standard safety precautions when working with nitric acid!

The ground glass joint holding your flask does not need to be greased, but on rare occasions it (or the bump bulb) may get "frozen". Some companies sell special joint clips that can free frozen joints simply by screwing them in one direction. If you aren't lucky enough to have these and can't release the joint you probably want to ask your local glassblower for advice.

Always make sure your trap is working properly as this not only protects the environment (if using a water aspirator), the lab personnel (from vapors that may be released to the room), as well as the vacuum pump (solvents in the pump oil can degrade seals and damage the pump). In addition, flammable vapors can build up in pumps or pump cabinets. See Brown, K. J., Smith III, A. B., Nguyen, M. "Lessons Learned from Laboratory Vacuum Pump Exhaust Explosion: Discussion and Preventative Strategies" ACS Chem. Health Saf. 2022, 29(1), pp 87-90 for an example of an explosion inside a vacuum pump cabinet during a rotary evaporation.

This page was last updated Friday, December 2, 2022.
This document and associated figures are copyright 1996-2023 by Rob Toreki. Send comments, kudos and suggestions to us via email.