November 20, 1987

The Honorable Glenn English
House of Representatives
Washington, D.C. 20515


Dear Congressman English:

Thank you for your letter of October 27 on behalf of your constituent, Mr. Joe N. Hampton, Oklahoma Grain and Feed Association, regarding a change in regulations affecting the grain industry.

The rule in question is the Hazard Communication Standard (29 CFR 1910.1200) which was first promulgated by the Occupational Safety and Health Administration (OSHA) in 1983. On August 24, 1987, OSHA extended the application of this rule from the manufacturing industries (which includes some grain processing operations) to all industries where employees are exposed to any type of hazardous material (which would include grain elevators). A copy of the August 24 rule is enclosed for your use.

The rule affirms that employees have the right to know the hazards of materials they work with, as well as appropriate steps they can take to protect themselves. This is to be accomplished by having a hazard communication program in each covered facility, with labels on containers of such hazardous materials, more detailed information in the form of material safety data sheets, and employee training programs.

Grain dust is a hazardous material under the definition of the rule. In addition to evidence regarding its physical hazard potential (i.e., explosions in grain elevators), there are a number of studies which indicate that it causes respiratory problems in workers. It is thus subject to the rule to provide information to workers and to ensure that they are aware of proper protective measures. These types of activities have been implemented by many employers for years, but promulgation of the standard ensures a minimum level of protection for all exposed workers. The rule does not, as your constituent's letter implied, require grain dust to be eliminated nor does it set a permissible exposure limit for grain dust. It merely requires hazard information to be transmitted.

We hope this information will be helpful to you. If we can be of further assistance, please do not hesitate to contact us.

Sincerely,

John A. Pendergrass
Assistant Secretary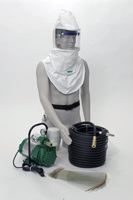 If you work around dust consider a complete supplied air respirator system like this one from Safety Emporium.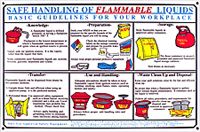 Get your safety posters and more at Safety Emporium.