November 23, 1987

Mr. Donn S. Dutton
High, Stack, Lazenby, & Palahach
Attorneys at Law
3929 Ponce De Leon Boulevard
Coral Gables, Florida 33134


Dear Mr. Dutton:

This is in response to your inquiry of October 28, concerning your client, Ms. Barbara Prince.

The Occupational Safety and Health Administration (OSHA) may have some air contaminant standards that are applicable to the process of wrapping meats in plastic. Before it can be established whether OSHA does, the air contaminants released would have to be identified.

After you identify the air contaminants, consult 29 CFR 1910, Subpart Z, to see if there are standards for any of them. Moreover, if the plastic wrapping material releases hazardous substances during the wrapping process, the hazard communication standard, 29 CFR 1910.1200 applies. One of its requirements is that the manufacturer of the plastic wrapping material must provide a Material Safety Data Sheet for it. Therefore, you may want to contact the manufacturers of the plastic wrapping materials.

We appreciate the opportunity to assist you in this matter.

Sincerely,

Thomas J. Shepich, Director
Directorate of Compliance Programs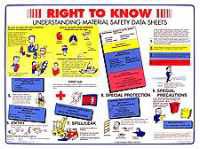 Teach your employees about MSDS's with posters and pamphlets from Safety Emporium.