February 24, 1988

Mr. Richard F. Andree
Executive Vice President
Safety & Health Management
Consultants, Inc.
161 William Street
New York, New York 10038


Dear Mr. Andree:

This is in response to your letter of February 1, regarding the Occupational Safety and Health Administration's (OSHA) Hazard Communication Standard (29 CFR 1910.1200).

Specifically your question is, must an employer provide materials, pursuant to the Hazard Communication Standard, in a language other than English? Paragraph 29 CFR 1910.1200(f)(9) states:
(9) The employer shall ensure that labels or other forms of warning are legible, in English, prominently displayed on the container, or readily available in the work area throughout each work shift. Employers having employees who speak other languages may add the information in their language to the material presented, as long as the information is presented in English as well.
Thus, the employer may add information on the labels in a language other than English, but there is no requirement that they do so.

If I may be of further assistance regarding this matter, feel free to contact me.

Sincerely,

John A. Pendergrass
Assistant Secretary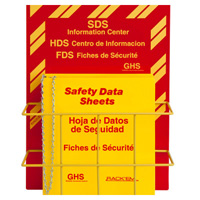 This Spanish language right to know center is just one of many Spanish and bilingual safety items available at Safety Emporium.