Mr. A.Y. Schultz
President
Schultz Company
Post Office Box 173
St. Louis, Missouri 63043


Dear Mr. Schultz:

This is in response to your letter of February 9, regarding the need for material safety data sheets for your liquid plant food.

As discussed with Mr. Steven Simon of my staff during a telephone conversation on February 19, the Occupational Safety and Health Administration's Hazard Communication Standard (HCS) does not apply to consumers. You would, therefore, not have to supply consumers with material safety data sheets.

The HCS exempts consumer type products if the employer can demonstrate it is used in the workplace in the same manner as normal consumer use, and such use results in a duration and frequency of exposure which is not greater than exposures experienced by consumers.

Based on your experience and knowledge of your product, if you determine that downstream employees will not be exposed differently from consumers, then your product would be exerted from coverage under the HCS; and material safety data sheets would not have to be provided to your customers.

If I can be of further assistance, please feel free to contact me again.

Sincerely,

Thomas J. Shepich, Director
Directorate of Compliance Programs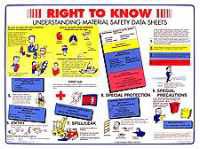 Teach your employees about MSDS's with posters and pamphlets from Safety Emporium.