This is in response to your letter dated February 26, addressed to Senator John Glenn concerning the Occupational Safety and Health Administration's (OSHA) Hazard Communication Standard.

The Hazard Communication Standard (HCS) was first promulgated by OSHA in 1983 for the manufacturing sector. On August 24, 1987, OSHA extended the application of this rule from manufacturing industries to all industries covered by Occupational Safety and Health Act of 1970, This would include the construction industry.

The HCS affirms that employees have the right to know the hazards of the materials they work with, as well as appropriate steps they can take to protect themselves. This is to be accomplished by having a hazard communication program in each covered facility, with labels on containers of such hazardous materials, more detailed information in the form of material safety data sheets, and employee training programs.

On October 23, 1987, the Office of Management and Budget (OMB), under the authority of the Paperwork Reduction Act, made the decision to disapprove certain provisions of the expanded rule of the HCS. One of the disapproved provisions is the requirement for exchanging material safety data sheets between employers on multi-employer worksites. This is the provision referenced in your letter. As a result of the OMB decision, OSHA will not be enforcing any of the disapproved provisions on May 23, until the Agency conducts further rulemaking.

OMB's disapproval of material safety data sheets at multi-employer worksites, however, does not relieve an employer's obligation to have a data sheet available for employees. Each employer would still need to ensure in some manner that material safety data sheets are available to employees when they are in their work area(s). In addition, employers would still be required to provide employees training and to ensure that containers are labeled.

Your letter also mentions the practicality of training employees who work on a limited basis. The performance nature of the standard allows employers to forego retraining employees who have been previously trained by another employer, union or other entity, if the current employer ascertains that the previous training is sufficient to meet the standard's training requirements for the current work being performed.

If I can be of further assistance, please feel free to contact me again.

Sincerely,

John A. Pendergrass
Assistant Secretary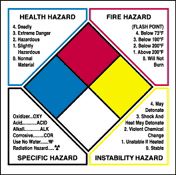 Communicate workplace hazards with handy labels from Safety Emporium.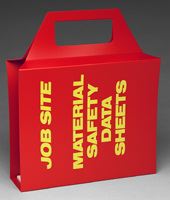 This portable job site MSDS binder is just one of many OSHA compliance items available from Safety Emporium.