Mr. T. Trahan
CSC Credit Services
652 North Belt East
Houston, Texas 77060
Dear Mr. Trahan:
We are hereby withdrawing our letter to you dated , which was written in response to your letter of August 21, 1997, requesting information on the Occupational Safety and Health Administration's (OSHA) policies concerning employees working at home.
Our letter provided guidance to you on your employees working at home. The letter, however, caused widespread confusion and unintended consequences for others. As a result of those unintended consequences, we have made the decision to withdraw the letter.
We regret any inconvenience this may have caused you. If you have further questions, please feel free to contact the Office of General Industry Compliance Assistance at 202-693-1850.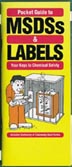 Get the basic facts about MSDS requirements with handy booklets and posters from Safety Emporium.