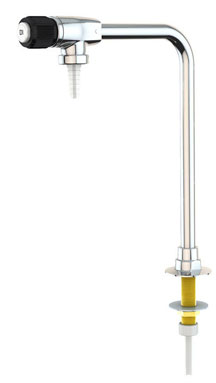 Get your
pure water valves and faucets
from Safety Emporium.
That's a valid concern. Water does not require an SDS because it does not meet the OSHA definition of hazardous, but that hasn't stopped companies from issuing them for non-hazardous materials. However, remember that even seemingly "harmless" substances such as table salt (sodium chloride, NaCl) may be dangerously incompatible with other substances or when their concentration or amount is higher than we normally encounter. See this 1993 OSHA interpretation letter for more information.
For example, many think that oxygen poses no unusual risks because we breathe it all the time (it is 21% of the Earth's atmosphere). But at 100% concentration, it is an extreme fire hazard and can even ignite some organic materials spontaneously!
Common table sugar wouldn't seem dangerous. But a 2008 sugar dust explosion at a Georgia sugar refinery killed eleven workers and injured 44 others, 20 of whom required treatment at burn centers. So maybe an SDS with a warning about dust explosions isn't so silly after all.
For a real-life assessment of 88 commonly used chemicals, take a look at Prudent Practices in the Laboratory: Handling and Disposal of Chemicals which is free to read on-line. Also check out "How should we handle SDS requests for materials that do not require an SDS?" elsewhere in this FAQ.
Even if some of the information in SDS's is in there to satisfy lawyers, it is in your best interest to assume a worst case scenario. A good analogy is professionals who work with blood products. These workers must assume "universal precautions", assuming that every blood sample they work with could transmit HIV or hepatitis even though few actually do. The payoff is in a greatly reduced risk of accident due to complacency.
Respect the chemicals you are working with and know their hazards (and how you would respond to a spill, leak or other accident) before using them!
For a humorous look at chemophobia (fear of chemicals) and SDS's take a look at the very cleverly done web site DHMO.org (yes, the whole site is a joke...DHMO is water).