In theory, anyone can write an SDS as long as they are capable of filling out the OSHA-required elements outlined in Appendix D of the Hazard Communication Standard. Whether you have the expertise it takes to produce an accurate and complete sheet is another matter.
Note: Paragraph A.4.2.2 of Annex 4 of the model regulations for the Globally Harmonized System of Classification and Labelling of Chemicals (GHS), on which the OSHA HazCom Standard is based, states The safety data sheet shall be prepared by a competent person who shall take into account the specific needs of the user audience, as far as it is known. Persons placing substances and mixtures on the market shall ensure that refresher courses and training on the preparation of SDS be regularly attended by the competent persons. However, the term "competent person" is not actually defined, and OSHA did not incorporate this requirement into the language of HCS 2012. The European Union addressed this issue in EU regulation 453/2010 which amended the REACH regulation to cover this in paragraph 0.2.3 which states Suppliers of substances and mixtures shall ensure that such competent persons have received appropriate training, including refresher training.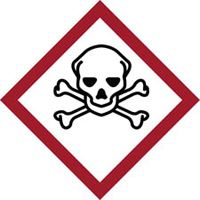 Get your
GHS-compliant labels and signs
from Safety Emporium.
Prior to implementation of the 2012 version of the HCS, one only needed to perform a hazard determination, a task that was much easier than the hazard classification that is now required. HCS 2012 also introduced some important new elements such as signal words (either Danger or Warning), pictograms, precautionary statements and hazard statements that had not previously been required.
While these new elements are not all that difficult to figure out, the hazard classification process can be quite daunting to many. Unless your SDS is for something common for which you can use other SDS's as a starting point, or for a laboratory sample for which most of the information may be "not applicable (N/A)" or "none", then you may want to consider hiring a professional. But if you want to try, OSHA has a guide titled Hazard Classification Guidance for Manufacturers, Importers, and Employers that will greatly assist you in the hazard classification process. They also have numerous technical information resources available that can assist SDS authors.
Regardless, recognize that you assume some significant legal responsibilities (see earlier in this section) as the author of an SDS. So if you do not think you are capable of producing an SDS that can meet all the requirements, we suggest outsourcing the project.
Although this article was authored well before HCS 2012 was written, you can find some excellent tips on writing an effective (M)SDS at http://www.osha.gov/dsg/hazcom/hc2inf2.html. This 1997 study includes a finding that "one expert panel review established that only 11% of the MSDSs were found to be accurate in all of the following four areas: health effects, first aid, personal protective equipment, and exposure limits. Further, the health effects data on the MSDSs frequently are incomplete and the chronic data are often incorrect or less complete than the acute data". Therefore, while you can easily make a new SDS for a common chemical (such as acetone) using another sheet as a template, be sure to triple check the information and document your effort!
One easy way to look up or double check technical information required on SDS's is OSHA's Occupational Chemical Database. Here you'll find concise data on a large number of chemical substances that may be encountered in industrial hygiene investigations. It's not all the data you'll need, but it gives you a good start. The RTECS database is another good resource and contains toxicology information on over 168,000 compounds! Those writing sheets for the European market should check out the link to the European Chemical Bureau in our FAQ question on European SDS requirements.
One truly fantastic resource now coming up to speed is the NIH's PubChem open chemistry database which has Laboratory Chemical Safety Summaries (LCSS) on over 152,000 compounds as of February 2022. The key point of this resource is that every piece of data is referenced back to the original source materials, meaning that you are not relying on secondhand information and can document where you came up with the physical or toxicological data on the sheet that you are authoring. Moreover, the LCSS also includes multiple sources for most data, so the user can look at the variability and reliability of the data when deciding which value to enter on their SDS. We expect LCSS's to revolutionize the way that chemical safety data is communicated and, in particular, to greatly assist the hazard classification process.
If you are interested in taking a professional SDS authoring course, AIHA offers an SDS and Label Authoring Registry self-study course ($499 for members, $699 for non-members) as well as a Safety Data Sheet Registered Professional (SDSRP™) credential.