Definition
The OSHA regulation 29 CFR 1910.1200, the Hazard Communication Standard (HCS 2012), deals with hazardous chemicals in the workplace and covers Safety Data Sheets, workplace labeling, training, and more. The standard has specific definitions for chemical manufacturers, distributors, and importers:
A

chemical manufacturer

is "an employer with a workplace where chemical(s) are produced for use or distribution". Generally, this means any employer that manufactures, processes, formulates, or repackages a hazardous chemical.
A

distributor

"a business, other than a chemical manufacturer or importer, which supplies hazardous chemicals to other distributors or to employers." Employees in these operations are considered to use hazardous chemicals.
An

importer

"as "the first business with employees within the Customs Territory of the United States which receives hazardous chemicals produced in other countries for the purpose of supplying them to distributors or employers within the United States."
Additional Info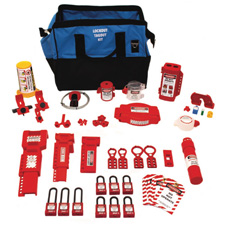 When working around hazardous sources of energy, OSHA requires the use of lockout devices like these from Safety Emporium.
Under paragraph (d) of HCS 2012, chemical manufacturers and importers are required to perform a hazard classification on substances which they produce or import and convey these findings on the product label and Safety Data Sheet:
(d)(1)
Chemical manufacturers and importers shall evaluate chemicals produced in their workplaces or imported by them to classify the chemicals in accordance with this section. For each chemical, the chemical manufacturer or importer shall determine the hazard classes, and where appropriate, the category of each class that apply to the chemical being classified. Employers are not required to classify chemicals unless they choose not to rely on the classification performed by the chemical manufacturer or importer for the chemical to satisfy this requirement.
(d)(2)
Chemical manufacturers, importers or employers classifying chemicals shall identify and consider the full range of available scientific literature and other evidence concerning the potential hazards. There is no requirement to test the chemical to determine how to classify its hazards. Appendix A to §1910.1200 shall be consulted for a classification of health hazards, and Appendix B to §1910.1200 shall be consulted for the classification of physical hazards.
Paragraph (g)(7) of the HCS distinguishes between a "distributor" and a "retail distributor." This distinction recognizes that retail establishments primarily deal with the general public. This type of operation makes it difficult to determine, at the point of purchase, whether a customer is an employer who, by law, needs a Safety Data Sheet. Retail distributors are permitted to use an "on-request" system to preclude the necessity of determining every customer's need for an SDS at the time of purchase or of providing an SDS to every customer.
Distributors, resellers and repackagers may be interested in our SDS FAQ question titled As a distributor, can we change the name and address on an SDS?
SDS Relevance
Like all employers, any manufacturer, distributor or importer must provide information to their employees about the hazardous chemicals to which they are exposed in their workplaces by means of a written hazard communication program. The program includes labels and other forms of warning, safety data sheets, safety practices, and training.
Per 29 CFR 1910.1200, the OSHA Hazard Communication Standard, distributors and manufacturers are also required to transmit SDS and labeling information to their customers who are employers. This is called a "downstream flow" of information that assures that each subsequent employer who receives the hazardous material is apprised of the hazards.
Further Reading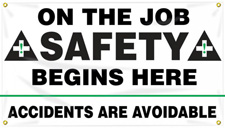 Encourage workplace safety culture with safety banners from Safety Emporium.
The following official OSHA interpretation letters may provide additional useful information:
OSHA Regulations/Standards, 29 CFR at OSHA's web site. Occupational Safety and Health Standards are found in Part 1910 and in some other sections a well.
See also: American Chemistry Council (formerly the Chemical Manufacturers Association).
Additional definitions from Google and OneLook.
---
Entry last updated: Tuesday, January 3, 2023. This page is copyright 2000-2023 by ILPI. Unauthorized duplication or posting on other web sites is expressly prohibited. Send suggestions, comments, and new entry desires (include the URL if applicable) to us by email.
Disclaimer: The information contained herein is believed to be true and accurate, however ILPI makes no guarantees concerning the veracity of any statement. Use of any information on this page is at the reader's own risk. ILPI strongly encourages the reader to consult the appropriate local, state and federal agencies concerning the matters discussed herein.