Your purchase supports this resource!
---
Judith Condon
---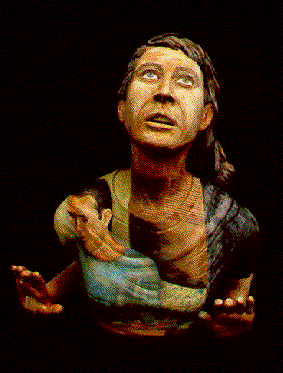 ---
back view
---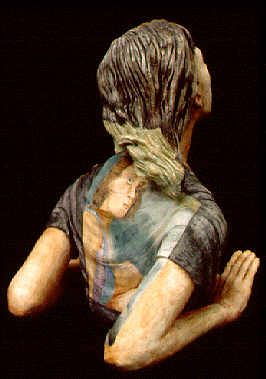 ---
Projection II
Ceramic, low-fire, oxidation, slips, oil paint
26"x 22.5"x 18"
1993
---
Artist Statement
My art is old ghost that speak themselves into clay. Revealing their persistence in extremes. They are ambivalent voices to be heard by more than me. Their strength tumbles out with small provocation: a song, a picture, a word. Their meaning revealed by years. My hope is that the figures are more than personal mysteries, that they speak of political and universal ironies, particularly fear of difference and all its consequence. Judith N. Condon
---
---
Resume
Judith Condon
108 East Glenwood Ave.
Knoxville Tennessee 37917
Telephone: (615) 971-4655
OBJECTIVE
A teaching position in the field of art. To advance as an active, exhibiting artist
TEACHING COMPETENCIES
All levels of ceramics, handbuilding, throwing, and all levels of drawing and painting.
EDUCATION
-The University of Tennessee-9/86 to 5/89
Knoxville, Tennessee
Master of Fine Arts/ 5/89
Major emphasis in ceramics and drawing
-The University of Georgia - 9/79 to 6/84
Athens, Georgia
Bachelor of Fine Arts- 8/82
Major emphasis in drawing and painting, art history
Graduated on Dean's List
TEACHER CERTIFICATION
Georgia Teacher Certificate/1993 to 1998
South Carolina Teacher Certificate/1986 to 1989
Tennessee Teacher Certificate/ 1994 to 1999
EXPERIENCE
6/94-8/94
Ceramics Instructor
The University of Georgia
Athens, GA
1/94-5/94
Drawing Instructor
The University of Tennessee
Knoxville, TN
1/87-1/94
Art instructor
Adult Ceramics, throwing
Children's Multi-media
New Prospect Craft Center
Knoxville, TN
2/93-4/93
Art Instructor
Meet the Masters Program
Knoxville Museum of Art
Knoxville, TN
11/89-11/92
Art Instructor
Arnstein Jewish Community Center
Knoxville, TN
8/90-5/91
Ceramics Instructor
Knoxville College
Knoxville, TN
1/90-5/90
Drawing Instructor
Department of Art
The University of Tennessee
Knoxville, TN