Your purchase supports this resource!
---
Juan Granados
---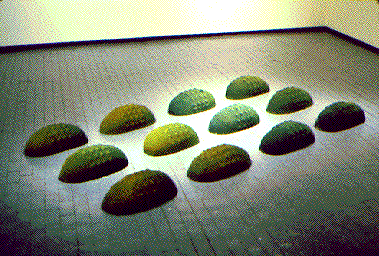 ---
First Harvest
Handformed, textured clay, slip, stains, oxides and glaze
14"x 12"x 9"
1992
---
Artist Statement
Art affects everyone differently but serves as a universal language. My work reflects a life of need, growth, and change. Through my work, I attempt to communicate experiences of my past and present environment. As I've developed as an artist, I have grown to accept my past and to rely on memories to help me in the present. I cannot deny. ignore. or forget who I am or where I've come from. My work is a mirror of my past that I constantly reconstruct for visions of the future.
---
Resume


Juan Granados, M.F.A.
704 Montague Drive
Cheney, WA 99004
(509) 235-4198

EDUCATION

	Master of Fine Arts: June 14, 1991
	The Ohio State University, Columbus, OH

NATIONAL EXHIBITIONS

1995	"Invitational "
	Montgomery College, Rockville Maryland
	Invited Artists: Aurore Chabot, Juan Granados, Anti Cooke,
	Mary Jo Bole, Ron Kovatch, Paul Sires,
	Eva Kwong, Virginia Scotchie, IC Stowell. Nina Bo/Borgia-Aberle, 
	Michael Lucero, Adrian Arleo
	January 23-February l0

1994	"Radical Exhibition"
	The Clara Kott Von Storch Gallery
	Dexter. Michigan
	February-March

1994	"Clay National"
	Zoller Gallery, Pennsylvania State University
	University Park, Pennsylvania
 	Wayne Higby, juror
	December-January

1993	"Wichita National"
	Wichita Center for the Arts
	Paul Soldner, juror
	Witchita, Kansas
	August 7-September 19

1993	"Animal, Vegetable, Mineral"
	Clay Studio Gallery
	Pittsburg, Pennsylvania
	October-November

1993	"Feats of Clay"
	Historical Gallery of Gladding McBean
	Patti Warashina, juror
	Lincoln, California
	May-June

1992	"Out of Clay" An Exhibition in Contemporary Ceramics
	Clara Kott Von Storch Gallery
	 Ruth Butler, juror
	Dexter, Michigan
	November 7-December 30

1992 	Farrell Collection
	Invitational
	Val Cushing, juror
	Washington, D.C.
	May-June