Your purchase supports this resource!
---
Jonathan Kaplan
---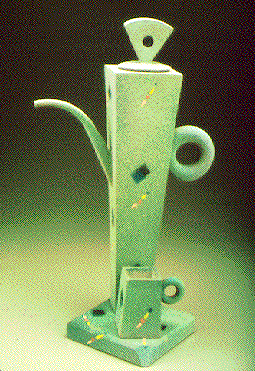 ---
Still Life with Teapot
Cast Terra Cotta with underglaze pigments
20"x6"x6"
1994
---
Artist Statement
My current work is slip cast and assembled, cone three terra cotta. Surface decoration is accomplished with sprayed, airbrushed, and hand painted under glazes and glazes. Further surface embellishments are non-fired gold and metallic pigments. This body of work is entitled "Neo-Industrial Art Objects" and consists of decorative and functional pieces including halogen lighting as well as sculptural and functional ceramics.
Technique and process are of some value to me. I fully exploit whatever appropriate technology is required. No process or methodology is sacred. My work is idea driven by design, the underlying structure and context of my ceramic work being most important.
I have always made pottery that is functional. "Neo Industrial Art Objects" are an attempt to push some of the limits in ascribing form for human usage. Architectonic design elements present a diverse context that interests me, both in a historical as well as contemporary genre.
---
Resume

Jonathan Kaplan
Ceramic Design Group
PO Box 775112
Steamboat Springs, Colorado 80477
(303) 879-9139

EDUCATION

1973 		Bachelor of Fine Arts, Rhode Island School of Design
1975 		Master of Fine Arts, Southern Illinois University 
			Edwardsville 

 EXPERIENCE

1976-1988 	Jonathan Kaplan Stoneware and Porcelain
		Kaplan Huling Pottery Manufaturing
		Bowmansville, Pennsylvania
		Director/Curator, Firesign Contemporary Crafts Gallery
		Bowmansville, Pennsylvania

1988-1992	Manager, Paragon Ski and Sport
			Telluride,  Colorado
		Owner, CMP Asian Cusine
			Telluride Colorado
		Manager, Sport Stalker
			Steamboat Springs, Colorado

1990-present Ceramic Design Group, Steamboat Springs, Colorado                         


TEACHING

1973-1975  	Belleville Area College, Belleville, Illinois
1975-1976  	Millersville University, Millersville, Pennsylvania

PUBLICATIONS

1974  		"Salt Glazing Ceramics"  	Ceramics Monthly
1975    	"Making Ceramic Decals" 	Ceramics Monthly
1980  		"Two Production Potters"	Ceramics Monthly
1982 		"Variations in Raw Materials"	Studio Potter
1984   		"Solutions for the Stacked Brick Door"	Studio Potter     
1989		"Burnout!"       		Studio Potter
1993		"Low Temperature Redware"  	Ceramics Monthly
          	

EXHIBITIONS

1971		Fifty Second Annual Cleveland May Show
 		Cleveland Museum of Art
1972		Ninth Annual Southern Tier Exhibition
		Corning Museum of Art
1973		Fall River National
		Tweed Museum of Art
1974		Ceramic Invitional
		Western Illinois University
1975		Twenty-Seventh Ceramics and Sculpture Exhibition
		Butler Institute of American Art	
1975-1976	Marietta College Crafts National
1975		Contemporary Crafts
		Delaware Art Museum     Purchase Award
1976		Third Annual Ceramic Invitational
		Weber State College
1981-1983	Functional Ceramics
		Wooster College
1981		Teapot Invitational
		Southern Illinois University
1986		Functional Vessals for the Table
		McLean Arts Center
1987		Annual Summer Show
		Pennsylvania Guild of Craftsmen		
1993  		SummerArt 1993
    		Steamboat Springs Arts Council
		Purchase Award
		Honorable Mention
		Four Directions Gallery Award
1993		The Light Show
		Vermont State Craft Center
		Tabletop Concepts Invitational
		American Ceramic Society