Your purchase supports this resource!
---
Jack King
---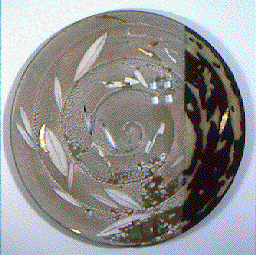 ---
At The Center of the Cyclone
Wheel thrown stoneware, resin, wood, cotton, gold-leaf
28"x19"x8"
1994
---
Artist Statement
Geometric and organic imagery is the basis of my ceramic art. By combining this simple premise in a variety of ways I challenge the viewer by creating tension and harmony at the same time. I use the plate, vase and sculptural form to act as a vehicle, to display geometric shapes on top of an organic background. This whole concept. organic and geometric, was developed during my studies in undergraduate .and graduate school and has continued to evolve during the past six years at San Antonio College where I currently teach ceramics.
The actual visual language of my art is divided into to categories; geometric, derived from common perspectives of the modern human world - architecture, computer images, and even aerial views of cities, and organic, based on natural landscapes, contemporary abstract painters, and Oriental art. Traveling to China, Australia, Mexico and ancient Native American Indian dwellings have also influenced my artistic development. My press molded sculptures are derived from a visit to the Mesa Verde cliff dwellings in southwestern Colorado. The decision to use geometric and organic images is inspired to some degree by other factors, my personal environmental concerns, backpacking trips in the Sierra Nevada mountain range and the Pacific northwest.
I use the plate form because of its flat, open surface that makes it ideal for surface decorations. In my latest series, I have combined sculptural elements with the plate form to make artwork that is more unique and challenging to resolve both technically and aesthetically. These sculptural plates totally deny the traditional associations a plate/vessel format and address a whole new set of sensibilities. Although, I enjoy the creative possibilities and freedom of this new series, I still make flat ones to experiment with color and shapes on the surfaces, like a painter treats a canvas. In order to make a larger statement, I have started making enormous, 35" diameter plates, which are wonderful challenging surfaces to work with and complete.
It is difficult for artists to pick out the absolute reason for making their art, but one of the most important reasons for me is I enjoy doing it. Fourteen years ago in high school I got hooked on clay and today I cannot imagine doing anything else. Many artists want to show their work in a variety of different venues and I find that having my work published increases the audience for my art. I find this to be an convenient way to communicate my artistic message of three dimensional clay objects in a two dimensional format. Ironically, this reinforces the two-dimensional painting format of a three dimensional vehicle. The concept of my imagery in two or three dimensions having such a wide audience, provides motivation to continue to explore my unique artistic vision.
---
Resume


JACK KING
526 Danube Ave.
Tampa, Florida 33606-3900
(813) 258-8138

Born: Memphis, Tennessee, July 16, 1948

Marital Status: Married, wife's name Kathleen (Kaki), also an
                artist and teacher!.

Education:  A.A. - St. Petersburg Junior College.
                  Clearwater, Florida  1966 - 1968

            B.F.A. - University of Tampa. Tampa, Florida
                    1968 - 1970, graduated with Special Senior Honors

            MFA. - University of Georgia. Athens, Georgia
                    1971 - 1973

Occupation: Associate Professor of Art, University of Tampa
            Tampa, Florida

            1990-1992  Professor of Art, Broward Community College
                       Ft. Lauderdale, Florida

            1973-1990  Associate Professor of Art, Augusta College
                       Augusta, Georgia

Exhibitions:

      64 - One Person and Group Exhibits

      96 - Regional, National and International Exhibits
           and Competitions



Selected Public and Private Collections:

      St. Petersburg Community College, Clearwater, Florida
      Merritt Island National Bank, Cocoa Beach, Florida
      University of Tampa, Tampa, Florida
      State Art Collection, Atlanta, Georgia
      Mr. Dexter Burley, Baltimore-e, Maryland
      Georgia Art Bus Program, Georgia Council for the Arts,
      Atlanta, Georgia
      LaGrange College, LaGrange, Georgia
      Columbus Museum of Art, Columbus, Georgia
      City of Atlanta Bureau of Cultural Affairs, Atlanta, Georgia
      Chattahoochee Valley Art Museum, LaGrange, Georgia
      West Georgia College, Carrollton, Georgia
      The Museum of Arts and Sciences, Macon, Georgia
      Columbus College, Columbus, Georgia
      Central Florida Community College, Ocala, Florida