Your purchase supports this resource!
---
Barbara Mazur
---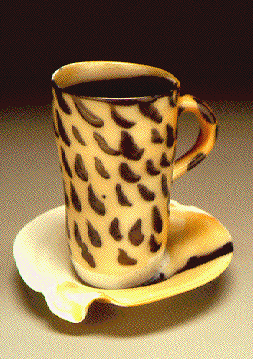 ---
Cup and Saucer
Porcelain, salt-glaze
6"x 4"x 4"
1994
---
Artist Statement
My work is about clay's ability to move and my ability to move with the clay. The magic in working with the earth, fire, water and air into an artistic statement is a continuous adventure with my heart, mind and soul.
I am primarily a vessel maker, though all of my vessels are not necessarily functional in essence. I prefer working with grolleg porcelain for its ability to flash, its translucency, its silken skin, and for its whiteness.
My forms evolve naturally when technique and the creative spirit unite. It is the questions I ask from one form to the next that assist in my growth and development. Through experimentation, the scope of possibilities become endless.
---
Resume


BARBARA MAZUR
3404 Island Rd.
Cooper City, FL
33026
(305) 432-2939

EDUCATION
 
University of Kentucky	M.F.A./1994
Lexington, KY

Kent State Univesity	B.S./1971
Kent. OH

Florida International University	
Post-Baccalaureate; Ceramics 
1981 and 1986
Miami FL

Broward Community College	
Post-Baccalaureate; Ceramics 
1981-1990
Ft. Lauderdale, FL

EXHIBITIONS

1993
	-Peal Gallery, University of Kentucky, Lexington, KY
	-Faculty and Graduate Student Exhibition, Barnhardt Gallery, 			University of Kentucky, Lexington, KY
	-Carnegie Arts Center, Northern Kentucky Arts Councl, Covington, KY
	-"Art From Art", The Kentucky Arts and Crafts Foundation, 
		Louisville, KY
	-"Delusions of Grandeur", Barnhardt Gallery, University of Kentucky, 		Lexington, KY
	-"The Ladies Oracle", Barnhardt Gallery, University of Kentucky,
		Lexington, KY
1992
	-Limited Editions Gallery, St. Louis, MO
	-The Art Department Exhibition, The Contemporary Gallery, 			University of Kentucky, Lexington, KY
	-"The Ladies Oracle", Barnhardt Gallery, University of Kentucky,
		Lexington, KY
1991
	-"Abstract Expressionism", The Contemporary Gallery, University of 		Kentucky, Lexington, KY
	-Graduate Exhibition, Singletary Center for the Arts, University of 		Kentucky, Lexington, KY
	-"Dreams and Nightmares", Art and Cultural Center, Hollywood, FL
	-"Lost Horizons", Ft. Lauderdale Art Institute, Ft. Lauderdale, FL
1990
	-"Transfigurational Experiences, A Journey Through Time and Space",
		Leonard Gallery, Ft. Lauderdale, FL
	-"Body and Spirit", Art and Cultural Center, Hollywood, FL
1989
	-"2+3 Goes 2x4", Art and Cultural Center, Hollywood, FL
	-"Ball in the Mall", The Center for Contemporary Art Museum, 
		Miami, FL
	-"Jewish Artists at their Best", Jewish Community Center, Sunrise, FL
	-"Outer Visions, Inner Self", Thomas Center Gallery, Gainesville, FL
	-Lighthouse Gallery, Tequesta, FL

PERMANENT COLLECTIONS

	-Russia, Humanitarian University
	-Singapore, Raffles Girl's School
	-Peru, IBM
	-Texas, Palo Alto College
	-Kentucky, Ohavay Zion Synagogue