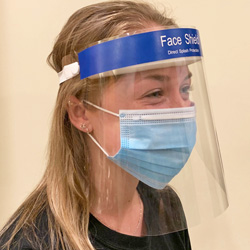 Check out Safety Emporium for your N95, N99, and face shield needs.
Previous by Date:
Subject: Re: Mass Decon
Date: Fri, 21 Oct 2011 12:44:56 -0700
Author: Michael Kleinman
Next by Date:
Subject: Re: New OSHA Fact Sheet Photos
Date: Sun, 23 Oct 2011 20:23:52 -0400
Author: JAKSAFETY**At_Symbol_Here**AOL.COM

Date: Sat, 22 Oct 2011 09:48:22 -0400
Reply-To: DCHAS-L <DCHAS-L**At_Symbol_Here**MED.CORNELL.EDU>
Sender: DCHAS-L Discussion List <dchas-l**At_Symbol_Here**med.cornell.edu>
From: Fermin Rodriguez <fermin1952**At_Symbol_Here**YAHOO.COM>
Subject: Re: Mass Decon suggertion for a team set up and design scenarios.
X-To: dchas-l**At_Symbol_Here**med.cornell.edu, amber_potts**At_Symbol_Here**HOTMAIL.COM
In-Reply-To: <BAY166-W1125F1B2F8CEB3BC37D02C4E80**At_Symbol_Here**phx.gbl*gt;

Dear Amber

The following are practical suggestions , based on Incident Command execution, that could help to set a decontamination team and or set practical scenarios to maintain a "ready to go" team.

I just finished setting up a hazmat team defining the following:

A. Roles and responsibilities

B. Duties assignments based on abilities and day to day task.

C. Integrating the executive and incident command team into the process.

D.

The program included class room training, table top for IC personnel and field scenario for the Hazmat team.

The following are SOME COMMENTS THAT MIGHT HELP
A.

Team member should be acquainted with the PPE

B.

Team member must know the components of the

C.

Set team members to handle activities that match their abilities and willingness to perform specific tasks such as, but not limited to the following :

i. Decontamination unit set up

ii. Security ( zone demarcations)

iii. PPE set up

iv. Infrastructure ( water, power, decon. water collection,

v. Decontamination of victims

vi. Handling of casualties with traumas that are not decontaminated

NOTE: decontamination team members should be crossed training in each position

D.

IC staff integration

E.

other
SOME GUIDELINE that might help your organization in maintaining an ever ready team:
A.

have a team meeting on a regular basis to practice; review roles and responsibilities

B.

establish a preventive maintenance and proper storage of equipment and PPE

C.

practice donning the PPE

D.

get other personnel with in the organization to wear the PPE

E.

get the personnel with in the organization to understand the procedures of decontamination and alerting procedures.

F.

set to a training (education program for executives, incident command team , Hazmat team

G.

NOTE: One day of exercise is not enough.

My recommendation is to have regular team meetings within the facility and maintain a good inventory of the equipment and PPE at hand .

H.

other
Hope this helps!!
Regards.
Fermin Rodriguez
President
FR Consulting
340 643 2265
Sent: Friday, October 21, 2011 3:06 PM
Subject: Re: [DCHAS-L] Mass Decon
Amber,
For your equipment, please be sure it conforms to the ANSI/ISEA 113 Standard. (American National Standard for Fixed and Portable Decontamination Shower Units)
There will soon be available an online Basic HAZMAT Life Support course (BHLS) offered through the same group that provides the Advanced HAZMAT Life Support course (AHLS);
http://www.ahls.org
.
You can also get some very good information and assistance through your regional Poison Center, the North Texas Regional Poison Center located at Parkland Hospital in Dallas; just open any phone book and the 800 number there will automatically connect you to them (provided federal budget cuts haven't yet destroyed the national phone network).
Excellent training can be obtained from the FEMA/DHS Center for Domestic Preparedness in Anniston, Alabama. Go through your State DHS coordinator or get back to me for some other contacts. Also, TEEX in College Station, TX (Associated with Texas A&M University) has some really great training programs in just about everything disasters -- to my mind, the finest training center for all types of disasters I've yet seen. Google it and talk to a guy named Gordon Lohmier if he's still running some of them.
As an Ol' Texas boy who used to practice and teach Emergency Medicine over to the John Peter Smith Hospital in Fort Worth and was a USAFR Flight Surgeon at what used to be Carswell AFB when we exercised the entire military-civilian mass casualty program and still does a bit of Forensic Toxicology teaching over at Weatherford College in Weatherford, I'd be happy to assist you.
Alan
Alan H. Hall, M.D.
ahalltoxic**At_Symbol_Here**msn.com
President and Chief Medical Toxicologist
Toxicology Consulting and Medical Translating Services, Inc.
Laramie, WY
Clinical Assistant Professor
Colorado School of Public Health
University of Colorado-Denver
Denver, CO
Senior Advisor
Forensic Science
Weatherford College
Weatherford, TX
---
Date: Fri, 21 Oct 2011 12:43:06 -0400
From: amber_potts**At_Symbol_Here**HOTMAIL.COM
Subject: [DCHAS-L] Mass Decon
To: DCHAS-L**At_Symbol_Here**MED.CORNELL.EDU
Our department just received a mobile mass decontamination trailer. I work at a city health department and we respond to any HAZMAT or WMD emergencies in North East Texas. Besides the users manual there really are no set guidelines for how to mass decontaminate a crowd. Has anyone every used a mass decon trailer or been in a situation where a mass decon has taken place? We are going to set up a
scenario
in a few months to test it out but until then I would appreciate any ideas or helpful information on mass
decontamination
.
Thanks!

Amber Potts
Garland, Texas

---
Date: Wed, 19 Oct 2011 15:21:11 +0000
From: rmizzo**At_Symbol_Here**PRINCETON.EDU
Subject: [DCHAS-L] USA Today Article on University Lab Safety
To: DCHAS-L**At_Symbol_Here**MED.CORNELL.EDU
Previous post | Top of Page | Next post
---