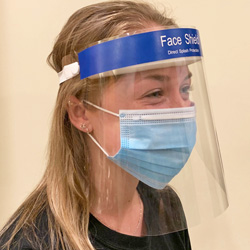 Check out Safety Emporium for your N95, N99, and face shield needs.

From: Alan Hall <ahalltoxic**At_Symbol_Here**MSN.COM>
Subject: Re: [DCHAS-L] Vaseline and oxygen
Date: October 19, 2012 1:09:36 PM EDT
Reply-To: DCHAS-L <DCHAS-L**At_Symbol_Here**MED.CORNELL.EDU>
Message-ID: <00bc01cdae14$0f5351b0$2df9f510$**At_Symbol_Here**chemical-safety.com>




Neal,

&nbsp

I stand corrected on the need for an ignition source.&nbsp Nothing like seeing throat cancer patients in VA hospitals wearing supplemental nasal prong O2 and smoking cigarettes through their tracheostomies as used to occur with some deadful regularity in times past.

&nbsp

I suppose a Pubmed or Toxline search (National Library of Medicine) might turn up any incidents that were published in the peer-reviewed medical/scientific literature.

&nbsp

I can say that involving medical supplemental O2 and vasoline, I've never personally come across a case despite practicing in 5 separate fields of medicine since 1977, but that doesn't mean much.

&nbsp

Alan

&nbsp

&nbsp
---
Date: Fri, 19 Oct 2012 09:09:00 -0700
From: neal**At_Symbol_Here**CHEMICAL-SAFETY.COM
Subject: Re: [DCHAS-L] Vaseline and oxygen
To: DCHAS-L**At_Symbol_Here**MED.CORNELL.EDU
Alan =96 you do not need an ignition source the heat of oxidation is sufficient
It would be interesting to locate actual PT incidents.&nbsp Where would they be documented?&nbsp I no longer have an NFPA membership, so cannot search them.
&nbsp
&nbsp
&nbsp
------------------------------------------------------------------------------------
The information contained in this message is privileged and confidential and protected from disclosure. If the reader of this message is not the intended recipient, or an employee or agent responsible for delivering this message to the intended recipient, you are hereby notified that any dissemination, distribution or copying of this communication is strictly prohibited. If you have received this communication in error, please notify us immediately by replying to the message and deleting it from your computer.
&nbsp
ACSafety has a new address:
NEAL LANGERMAN, Ph.D.
ADVANCED CHEMICAL SAFETY, Inc.
PO Box 152329
SAN DIEGO CA 92195
011(619) 990-4908 (phone, 24/7)
&nbsp
We no longer support FAX.
&nbsp
&nbsp
From: DCHAS-L Discussion List [mailto:dchas-l**At_Symbol_Here**MED.CORNELL.EDU] On Behalf Of Alan Hall
Sent: Friday, October 19, 2012 8:41 AM
To: DCHAS-L**At_Symbol_Here**MED.CORNELL.EDU
Subject: Re: [DCHAS-L] Vaseline and oxygen
&nbsp
I think you will find that home medical O2 providers will always caution against using vasoline (petrolatum jelly) on the face and particulalry to lubricate the nasal mucosa which even with moisturization aerosols&nbsp afflicts those receiving chronic medical O2.&nbsp What they generally recommend is a lubricating cream which does not contain volatile hydrocarbons.&nbsp These are readily available.
&nbsp
Naturally, there would have to be an ignition&nbsp source before a fire could occur, but why take a chance when safer alternatives are available?&nbsp Nothing like process product substitution as a good administrative approach to hazard/risk reduction.
&nbsp
My late first wife was on supplemental medical O2 for the last 5 years of her life, so I did become quite familiar with this issue.&nbsp Whethere there's any real science behind it or whether it is an "urban myth", I can't say as of today.&nbsp But the old saw about "better safe than sorry" does come to mind.
&nbsp
Maybe someone wants to do a little bench research in a proper facility and tell us the results?
&nbsp
Alan
Alan H. Hall, M.D.
Medical Toxicologist
&nbsp
---
Date: Fri, 19 Oct 2012 08:31:37 -0600
From: mulcahy.marybeth**At_Symbol_Here**GMAIL.COM
Subject: [DCHAS-L] Vaseline and oxygen
To: DCHAS-L**At_Symbol_Here**MED.CORNELL.EDU

Just curious about this and thought some people on this list-serve might have some insightful thought on a topic I stumbled upon (and if I were still a teacher would be a fun test questions to throw at students just to get them thinking).

I had a newborn nephew who was recently on portable oxygen. At some point my sister-in-law said you aren't allowed to have perfume or Vaseline near the oxygen because it can catch on fire. This struck me as odd that she would be cautioned this way since she was using some type of solvent soaked pad to clean the spot where she was going to be putting an adhesive for the oxygen tube to be put on my nephew's face.

I have never thought of Vaseline being particularly hazardous, so of course I immediate began to consult with Dr. Google. One of the warnings I found online was:

"Never use oil-based face or hair creams, a hair dryer or an
electric razor. It is possible in certain conditions that the combination
of oxygen, oil-based toiletries and a spark from an electrical
appliance, such as an electric blanket, hair dryer, electric razor or
heating pad, could ignite and cause burns. Never use oil based hair
lubricants, face and hand lotions, petroleum jelly products, or
aerosol sprays. Always use water-based cosmetics or creams." (http://www.firsttoserve.com/files/cylinder_oxy.pdf)

I also thought found the article titled "Dispelling the Petroleum Jelly Myth" (someone posted the article in a forum found here http://respiratorytherapydriven.blogspot.com/2007/11/vaseline-and-oxygen-flame-on.html).

Then I decided to call a real medical doctor (my sister) to ask about it. She said that she doubted there was any hard evidence out there that this is a hazard, but that somewhere, someone had an accident, hospital got sued, and now it is a "risk" that is being mitigated in hospitals (including hers).

Anyone out there done experiments to try and catch Vaseline on fire? Anyone know the case where Vaseline was identified as a root cause in an accident involving a patient being burned?

Beyond a intellectual curiosity on the topic, it makes me wonder how we promote safety and what we ask people to focus on. Is is scientifically based (does it need to be)? Is it a knee jerk reaction? Is it a systematic approach? The cartoon below portrays how some people I have spoken to look at OSHA regulations. The problem is that if this is the view a person has of safety regulations/standards, I believe he or she will lose faith in the regulations, potentially not following them and thus losing the benefit they can provide. (Disclaimer: I put this cartoon here not because it is how I view OSHA regulations, but because i think it can help spur conversation.)



Mary Beth
Previous post | Top of Page | Next post
---