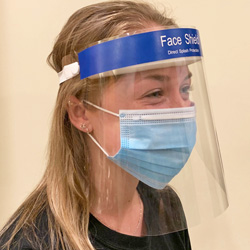 Check out Safety Emporium for your N95, N99, and face shield needs.
From: ACTSNYC**At_Symbol_Here**cs.com
Subject: Re: [DCHAS-L] disposal of uranium compounds
Date: Thu, 22 Aug 2013 10:34:39 -0400
Reply-To: DCHAS-L <DCHAS-L**At_Symbol_Here**MED.CORNELL.EDU>
Message-ID: 4e11a.38eec4fe.3f477b7f**At_Symbol_Here**cs.com
I was joking before about an e-bay bidding war, but glass manufacturers are legitimately using uranium in their dichroic glass. One of those irridescent colors is done with a thin layer of uranium.
It might not hurt to talk to someone like Bullseye or another of the art glass manufacturers and suppliers.
Monona
In a message dated 8/22/2013 7:15:13 AM Eastern Daylight Time, droberts**At_Symbol_Here**DEPAUW.EDU writes:

Radioactive compounds are funny. While they are a hazardous waste, EPA does not regulate them because they fall under NRC jurisdiction. With that said, naturally occurring radioactivity such as uranium and thorium compounds are all NRC exempt, until it comes to disposal. You are not allowed to dispose of radioactive compounds in a normal waste site. They must be handled by a radioactive disposal company (there are not too many of them, you can google it to find one near you). It's not cheap, and more than likely you will fall in to the minimum price category (they charge a minimum just to come to your door, and you prob. won't have enough to incur extra charges).
As a general housekeeping rule if you aren't using it you should try to find a way to get rid of it. But really, it's a shame to have a brick made out of it, so if you can find somebody who needs it and is willing to take it from you, I always feel that's a good way to go. The chemicals are probably not degraded or bad (thorium nitrate lasts forever, as does uranyl acetate). So if you look around at big schools near you, it's possible you'll find somebody who can use the stuff. If you want to try to sell it, that's your call, I don't know how your University handles that. I personally would be happy if people would just take the stuff from me. Disposal is going to run you around $3500 minimum (and that was 8 years ago). So you decide
Now, to get technical, since EPA doesn't care, NRC's general policy is typically to decay in house. Of course uranium and thorium compounds will not undergo 10 half lives in your lifetime, so storing it is not against the rules, but is probably not advised. I have some of these myself (occasionally they turn up - you can't avoid it), and so I store them in a safe location (locked), and accumulate until I get a quantity that I then feel I need to deal with. Again, I'd look for somebody willing to take them from you - hopefully you can find them.
Good luck with this
Dave
Previous post | Top of Page | Next post
---