Mitigate Exposure to 3D Printer Emissions in Schools:
View These Learning Modules to Learn How
The U.S. Environmental Protection Agency (EPA) has partnered with Chemical Insights, an institute of Underwriters Laboratories, to launch a four-part learning module series to create awareness about the potential health risks associated with 3D printer emissions, including those that affect students and staff in a school environment.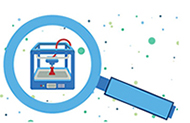 These learning modules, available on AsthmaCommunityNetwork.org, walk you through why indoor air quality (IAQ) matters, research on the impact that operating 3D printers has on IAQ, and what you can do to mitigate the unintended consequences associated with this exciting, innovative technology. Complete all four learning modules to expand your knowledge of how to reduce exposure to 3D printer emissions.
Use EPA's IAQ Tools for Schools Action Kit and Framework for Effective School IAQ Management to tailor your IAQ management plans for mitigating 3D printer emissions. Key considerations should include-
Join the Asthma Community Network today!
AsthmaCommunityNetwork.org is a resource-rich online Network designed for community-based asthma programs and organizations that sponsor them, including representatives from schools. Not a member? Join today to become a part of this interactive Network.
---
Questions?
EPA offers free IAQ Tools for Schools resources-including the School IAQ Assessment Mobile App-to help schools maintain a healthy indoor environment by identifying, correcting and preventing IAQ problems. Learn more about the IAQ Tools for Schoolsguidance and access other valuable school environmental health resources at www.epa.gov/iaq-schools.
If you have any questions about the IAQ Tools for Schools guidance, please contact the IAQ Tools for Schools Connector Coordinator at iaqschools**At_Symbol_Here**epa.gov.