To become an accomplished scientific glassblower in a research environment requires years of experience and exposure to the many fields of science. It is not unusual for a glassblower to spend 10+ years working in a multi-science environment before they may be considered "Master Glassblowers"
*
. Many scientific glassblowers
in the United States learn their skills through an informal apprentice style program specific to the company or school they are associated with.
*Some European countries have a formal and difficult program that a person must pass before earning the title "Master Glassblower". The United States does not have such a program.
The intent of this basic tutorial is not to make you an accomplished professional glassblower. It is designed to give you experience in performing a series of basic glassblowing seals that can be used in the fabrication and repair of simple to complex glass apparatus and glass systems. The lessons given are designed for use in the scientific field though many of the techniques may be applied to art glassblowing. It is assumed that you will be using glass from the borosilicate family (PYREX®, KIMAX® or DURAN®) and the instructions given are based on this assumption. Directions and information should be considered a foundation on which to develop your skills to whatever level you desire. These lessons are guidelines. Successfully obtaining an end product can be reached in many ways. Be creative and have fun!
Burns and cuts (possibly severe enough to result in severe injury or death) are a possibility when working with glass and when glassblowing. Use common-sense and keep your work area clean and free of excess and unused material. If you have someone working next to you stay centered at your glassblowing bench and be aware of all activity in your immediate area. Know the location of exits, fire alarms, telephones, fire extinguishers, safety and first-aid equipment, and gas shut-off valves.
Always wear appropriate protective clothing and/or equipment.
Inspect the entire work area, especially the gas supply system, to confirm safe working conditions. Do not work alone - be sure someone is close by to offer assistance if necessary.
Repairs to scientific glassware should be attempted with caution. Assuming the glassware was broken in use, or has been used in the laboratory at some point in time, it would be wise to assume the glass has some chemical residue on or in it. Do not attempt to repair any glass until it has been cleaned to your satisfaction. Many glassblowers as policy will not accept glassware for repair until the user has srcupulously cleaned the glass of all chemical and grease residue. Remember, as you heat the glass any outgassing that occurs is deposited directly into your mouth via the blowhose assembly.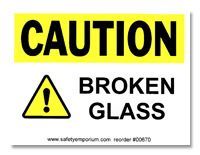 Broken glass and leftover pieces should never be disposed of in the regular trash as this could cause serious injury to the custodial staff, someone picking through your trash, or a waste handler. Most organizations have established policies for dealing with "sharps". Sharps containers or buckets must only be used for disposal of broken glass, glass pipettes etc. - do not throw "regular" trash into them. If your organization uses disposable cardboard boxes, seal them up tightly with tape and make sure the hazards are made clear with signage such as DANGER BROKEN GLASS. Signs and labels such as the one on the right are available at vendors such as Safety Emporium.
Your glassblowing facility must adhere to all local, state and federal regulations for personal, property and environmental protection.
| | |
| --- | --- |
| | Glassblowing has inherent hazards that can result in burns, cuts, poisoning, injuries or even death. While every effort has been made to convey best safety practices, the materials presented herein can not anticipate every possible risk or hazard associated with a given glassblowing activity. The reader is responsibile for assessing and mitigating any and all such hazards or risks before commencing any activity connected with his or her use of these materials. Neither the author(s) nor ILPI assumes responsibility or liability for injuries, losses, claims or damages to the reader or other parties that may result from the use or misuse of these materials. |