September 25, 1985

Mr. William M. Pallies
Exide Corporation
101 Gibraltar Road
Horsham, Pennsylvania 19044-2373


Dear Mr. Pallies:

This is in response to your letter of September 9, inquiring whether any Occupational Safety and Health Administration (OSHA) requirement places an obligation for employers to respond to requests for material safety data sheets (MSDS) for old products.

The case you relate in your letter indicates a former customer has asked for an MSDS for a product you ceased manufacturing more than 12 years ago. OSHA's new Hazard Communication Standard (HCS) goes into effect in two stages. Chemical manufacturers, importers and distributors must transmit MSDS and label products containing hazardous chemicals on and after November 25, 1985.

This requirement is not retroactive, and accordingly you would not be required under the HCS to transmit a MSDS.

I am not aware of any other relevant Federal statute. You are best advised to seek legal counsel concerning local laws that may be in effect.

Please feel free to contact us again if further assistance is needed.

Sincerely,

John B. Miles, Jr.
Director
Directorate of Field Operations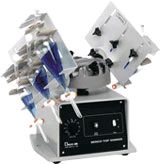 Mix things up around the lab with automatic shakers from Safety Emporium.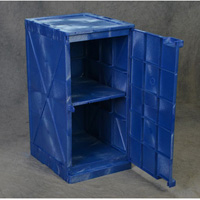 Get your corrosion-resistant polyethylene acid storage cabinets from Safety Emporium.