There is no such thing as a "chemical-free" substance. Everything around us is a chemical - the air we breathe, the food we eat, and the planet we're standing on. After a number of bad experiences with various substances, society has grown to view anything referred to as a "chemical" with fear and suspicion. For every chemical compound that has caused societal, environmental or health issues (asbestos, DDT, thalidomide, chlorofluorocarbons), there are dozens of others which have caused no harm or provided us with great benefits (penicillin, Kevlar, Nylon).

When people (irrationally) fear a substance simply because "it is a chemical", we call it chemophobia. For example, if you ask someone who was not an organic chemist if they wanted 2-oxo-L-threo-hexono-1,4- lactone-2,3-enediol in their body, the answer will usually be an emphatic "No!" A better answer would be "That depends...what effects will that have on me and the environment?" In this case, the effect would be beneficial because 2-oxo-L-threo-hexono-1,4- lactone-2,3-enediol is simply the formal IUPAC name for Vitamin C.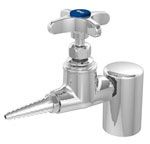 Equip your lab with faucets and gas valves from Safety Emporium.