Definition
The Toxic Substances Control Act (TSCA) of 1976 authorized the U.S. Environmental Protection Agency (EPA) to track the 86,000+ industrial chemicals currently produced or imported into the United States. The EPA repeatedly screens these chemicals and can require reporting or testing of those that may pose an environmental or human-health hazard. EPA could (in theory; see below) ban the manufacture and import of those chemicals that pose an unreasonable risk.
A number of changes to the Act took effect on June 22, 2016; see the Frank R. Lautenberg Chemical Safety for the 21st Century Act information below.
Additional Info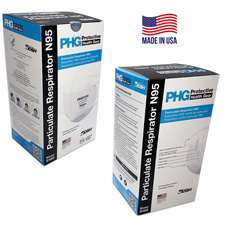 Get your PPE such as made in USA NIOSH-approved N95 masks from Safety Emporium.
The U.S. EPA also tracks the thousands of new chemicals that industry develops each year with either unknown or dangerous characteristics. TSCA supplements other Federal statutes, including the Clean Air Act and the Toxic Release Inventory under the Emergency Planning and Community Right-To-Know Act (EPCRA).
TSCA applies to organizations that involve the manufacture, processing, distribution in commerce, use, and/or disposal of a new or existing chemical substance or mixture that may present an unreasonable risk of injury to health or the environment. The reporting threshold was raised in 2002 from 10,000 lbs (4,500 kg) to 25,000 lb (11,340 kg) per year. Most businesses that meet the 40 CFR 704.3 definition for small manufacturer or importer are exempt from reporting requirements. A business meets that criterion when total annual sales are less than $40 million and the manufacturing or import volume is less than 100,000 pounds (45,360 kg) at all sites.
By definition, TSCA-regulated chemical substances and mixture do not include "...any source material, special nuclear material, or byproduct material (as such terms are defined in the Atomic Energy Act of 1954 and regulations issued under such Act)..." [TSCA, Section 3(2)(B)(iv)]. Although TSCA excludes nuclear material, the TSCA-regulated portion of a mixed nuclear and regulated waste must comply with TSCA requirements. Materials that are not chemical substances or mixtures are not subject to the requirements of TSCA.
Any substance that is not on the Inventory is classified as a new chemical. If a substance is "new", it can be manufactured for a commercial purpose only if it is subject to an exemption from PMN (Premanufacture Notice) reporting or a TSCA reporting exclusion. For substances which are "existing", the Inventory can be used to determine if there are restrictions on manufacture or use. See Further Reading below for more information.
TSCA and its updates specifically address certain high-profile chemicals such as polychlorinated biphenyls (PCB's), asbestos, lead and radon.
A TSCA report for 25,000 lbs or more includes:
The number of workers reasonably likely to be exposed to the chemical substance at the site of manufacture or import
The physical form(s) of the chemical substance as it leaves the submitter's possession, along with the associated percent production volume
The maximum concentration of the chemical substance as it leaves the submitter's posession.
For substances with annual volumes of 300,000 lbs (136,000 kg) or more per site, significant additional information is also reported.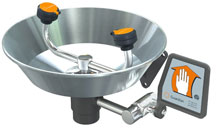 Safety Emporium carries all kinds of eye/face washes, safety showers, drench hoses and more.
Under the Inventory Update Rule (IUR) the TSCA inventory is updated every 5 years. Prior to 2006, the update period was 4 years. Some new changes included in the 2002 update were:
Increased the reporting threshold from 10,000 to 25,000 pounds.
Require companies to include data on inorganic chemicals.
Include the number of workers likely exposed a chemical in its manufacture.
List the uses of each substance.
Require businesses to present "up-front substantiation" to claim a chemical identity as proprietary information that must be held in confidence by the EPA.
Certain natural gas streams are exempted from all reporting. Other groups of chemicals, including most petroleum streams and certain chemicals that are of low current interest, are now partially exempt from reporting and are not required to report processing and use information.

The idea of the higher reporting limit is to reduce the additional burden associated with covering more chemicals. As one might expect, both chemical manufacturers and community/environmental groups like some of these changes more than others.

Safety Emporium carries all kinds of eye/face washes, safety showers, drench hoses and more.

Frank R. Lautenberg Chemical Safety for the 21st Century Act

The EPA's ability to ban chemicals under the original implementation of TSCA was a dismal failure. Only five chemicals were ever explicitly banned. In 1989, after ten years of study and spending ten million dollars, EPA issued a Final Rule which banned asbestos, a known and potent human carcinogen for which there are multiple and far safer alternatives and removal of which is so dangerous that it is governed by an array of safety regulations. However, the Final Rule was vacated in 1991 in an absurd court ruling that TSCA required the EPA to prove it had analyzed every conceivable way of restricting asbestos and had chosen the "least burdensome alternative" to industry. EPA basically gave up on efforts to ban chemicals after that point, and to this very day, asbestos may still be legally included in a host of materials, which not only expose the workers who manufacture and install it, but also any unsuspecting person who unwittingly disturbs the material and releases asbestos fibers into the air.

In September of 2009, the Obama administration unveiled broad proposals to reform TSCA and give the EPA the ability to ban or restrict unsafe chemicals. Supporting legislation was announced by US Senators Frank Lautenberg (Democrat, NJ) and James Jeffords (Independent-VT) in 2010, but after a number of hearings and stakeholder sessions, the bill died amidst industry opposition. After considerable effort, on June 22, 2016, the Frank R. Lautenberg Chemical Safety for the 21st Century Act was signed which made many needed improvements although it fell far short of the original goals. Under the revisions, the following changes were made.
A mandatory requirement for EPA to evaluate existing chemicals with clear and enforceable deadlines
A new risk-based safety standard for new chemicals
New requirements for confidentiality claims
Consistent funding for the program through user fees
Federal-state partnership for when state and federal laws conflict
Amends the Mercury Export Ban Act (MEBA) and requires that EPA create an inventory of supply, use, and trade of mercury and mercury compounds.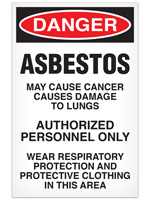 Signs, training materials and supplies from Safety Emporium can help ensure a safe and healthy workplace.
A summary of all of the major changes is available at https://www.epa.gov/assessing-and-managing-chemicals-under-tsca/highlights-key-provisions-frank-r-lautenberg-chemical.
Critics point out the Act is so watered down that the EPA wouldn't begin testing chemicals for three years, and even then the initial list included only 3 solvents, 20 chemicals, and asbestos, all of which were already on EPA's agenda, leaving 30,000+ high-production chemicals untested. Further, within days of the signing of the act, it became clear that politicians and other parties would begin demanding that the EPA give their personal concerns priority instead of letting the EPA do its job - determining which chemicals pose the greatest risk based on exposure levels, production volume, individual hazards, and known human health effects.
The Trump administration's implementation of the testing provisions was met with great criticism for concealing health studies and violating transparency provisions. Critics have pointed to ten failures in the EPA's April 2019 asbestos Significant New Use Rule (SNUR), a rule that could conceivably allow asbestos back on the US market for certain applications. This comes on top of the administration's attempt to bar the use of some of the best available health information on certain chemicals under the misleadingly named "Strengthening Transparency in Regulatory Science" rule that has been widely condemned by the scientific community.
Under the Trump policy, the agency could exclude reasonably foreseen conditions of use from EPA's review of a new substance by means of a SNUR. In other words, the EPA could pretend the chemical won't be used a certain way in order to approve it, the goal being to allow the commercialization of products even if there was a risk of public harm from exposure. However, in March 2021, under the Biden administration, the EPA reversed course and declared it would would follow Congress's intent that the EPA review all conditions of use when making determinations on new chemicals and, where appropriate, issue orders to address potential risks.
In 2019, the EPA announced its intention to reject a certain type of confidentiality claim, known as Confidential Business Information (CBI), on the identity of chemicals (with 377 chemicals losing this status in October of 2021), but this minor change does nothing to take unsafe chemicals off the market.
Books Available
NOTE: We may collect a share of sales or other compensation from the links in the following list:
SDS Relevance
Much of the information contained in the TSCA database overlaps, parallels or supplements the information found on Safety Data Sheets. Some SDS's may refer to particular TSCA items, and TSCA information can be useful when constructing a new SDS sheet.
Some SDS's may contain code letters that are used in the TSCA Inventory to identify substances that are the subject of an EPA rule or order promulgated under TSCA, or to indicate the a full or partial exemption from TSCA reporting requirements. These codes are not required to be on an SDS. In our opinion, these codes are completely useless to the end user - why give a cryptic code instead of simply writing out what the code stands for?
Note:
Some of the letters/symbols used in this table are also used as
CHIP
,
HMIS
, and/or
DoD HMIRS/HCC
codes, all of which have completely different meanings and applications! See why we dislike code systems?
| TSCA Flag/Code | Meaning |
| --- | --- |
| E | Subject to the Section 5(e) Consent Order of TSCA |
| F | Subject to the Section 5(f) Rule of TSCA |
| N | A polymer containing no free-radical indicator in its Inventory name but is made with one regardless of the amount used. |
| P | A commenced PMN (Premanufacture Notice) substance |
| R | Subject to a Section 6 risk management rule under TSCA |
| S | Substance is identified in a proposed or final SNUR (Significant New Use Rule) under TSCA |
| T | Subject to the Section 4 test rule under TSCA |
| XU | Exempt from reporting under the Inventory Update Rule |
| Y1 | An exempt polymer that has number-average molecular weight of 1,000 or greater |
| Y2 | An exempt polymer that is a polyester and is made only from reactants included in the specified list of low concern reactants in the exemption eligibility criteria rule |
Further Reading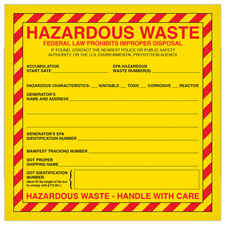 Get your hazardous waste labels from Safety Emporium.
See also: EPCRA, TRI, RCRA, REACH, SARA.
Additional definitions from Google and OneLook.
---
Entry last updated: Friday, March 4, 2022. This page is copyright 2000-2023 by ILPI. Unauthorized duplication or posting on other web sites is expressly prohibited. Send suggestions, comments, and new entry desires (include the URL if applicable) to us by email.
Disclaimer: The information contained herein is believed to be true and accurate, however ILPI makes no guarantees concerning the veracity of any statement. Use of any information on this page is at the reader's own risk. ILPI strongly encourages the reader to consult the appropriate local, state and federal agencies concerning the matters discussed herein.