Definition
EC 1907/2006, Registration, Evaluation and Authorisation of Chemicals (REACH) is a European Union regulation concerning chemicals and their safe uses. REACH is designed to protect human health and the environment by identifying the properties of chemicals before they are used commercially.
REACH is a single system that replaced approximately 40 other European Directives and Regulations. The legistlation took effect June 1, 2007, with phase-in of various compenents continuing through June 1, 2009 and beyond.
Additional Info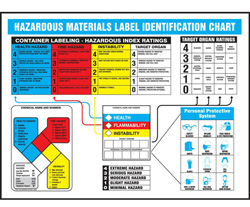 Keep informed about workplace hazards with proper labeling techniques and safety posters available from Safety Emporium.
REACH has several goals:
A "high level of protection" for human health and the environment from risks that can be posed by chemicals.
Enhance the competitiveness of the EU chemicals industry.
Ensure a smoothly functioning market with regulations that do not vary significantly among the EU member states.
Have substances of high concern eventually replaced by less dangerous substances or technologies where economically and technically viable.
REACH requires manufacturers and importers of substances to register them with the European Chemicals Agency (ECHA). ECHA manages the registration, evaluation, authorization and restriction processes for chemical substances to ensure their safe use as well as the competitiveness of European industry. ECHA began accepting registrations June 1, 2008.
Under REACH, all manufacturers and importers of chemicals must identify and manage risks linked to the substances they manufacture and market. For substances produced or imported in quantities of 1 tonne or more per year per company, manufacturers and importers need to demonstrate that they have appropriately done so by means of a registration dossier which they must submit to ECHA.
Not all substances are covered by REACH. Examples of exempted items include radioactive substances, non-isolated intermediates, and waste. While REACH is designed not to overlap or conflict with other chemical legislation, there are certain classes of materials that are covered by REACH under certain circumstances or with tailored provisions. See Further Reading below for more information.
In 2010, the US equivalent of EU REACH legislation hit the US House as H.R. 5820, the Toxic Chemicals Safety Act of 2010, which would amend the Toxic Substances Control Act of 1976 (TSCA) to ensure that the public and the environment are protected from risks resulting from chemical exposure. The bill died in committee amidst industry opposition.
Books Available
NOTE: We may collect a share of sales or other compensation from the links in the following list:
"Risk Assessment of Chemicals: An Introduction", Hardcover, 688 pages, 2007. Estimated price $169.75. Info and/or order.
"Safety at Work, 8th Edition", Hardcover, 1,056 pages, 2007. Estimated price $88.79. Info and/or order.
"REACHing for Sustainable Development- Impact Assessment of the European Chemicals Framework", Paperback, 60 pages, 2007. Estimated price $48.60. Info and/or order.
SDS Relevance
Manufacturers and importers in the European Union must provide their downstream users with the risk information they need to use the substance safely. This is accomplished via the classification and labelling system and Safety Data Sheets (SDS). See CHIP and GHS for more information.
Further Reading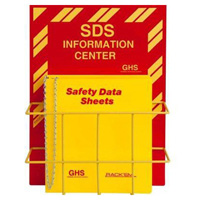 Your employees can stay informed and comply with OSHA regulations with SDS information stations and compliance products from Safety Emporium.
See also: CHIP, COSHH, risk phrases, safety phrases, and the International Section of the MSDS FAQ.
Additional definitions from Google and OneLook.
---
Entry last updated: Sunday, January 8, 2023. This page is copyright 2000-2023 by ILPI. Unauthorized duplication or posting on other web sites is expressly prohibited. Send suggestions, comments, and new entry desires (include the URL if applicable) to us by email.
Disclaimer: The information contained herein is believed to be true and accurate, however ILPI makes no guarantees concerning the veracity of any statement. Use of any information on this page is at the reader's own risk. ILPI strongly encourages the reader to consult the appropriate local, state and federal agencies concerning the matters discussed herein.