Additional differences include accidental release measures for containment and cleanup as well as concise but complete toxicological and ecological information (such as ecotoxicity, bioaccumulation potential), mobility in soil, persistence, and degradability). Note, however, that OSHA has no authority over environmental issues, the domain of the EPA, so these parts will likely be recommended but not mandatory in the US. Likewise, the GHS requires transportation information such as the UN Number, proper shipping name, packing group, and more, but, again, OSHA has no authority over such matters (which fall under DOT). In short, some of the GHS changes will be mandatory when the HCS is revised, but some will not be!

The criteria for MSDS component disclosure also differs between the two systems. The level of hazardous components can be given as ranges or concentrations under GHS, whereas the HCS specifies percentages.

Under the current HCS, MSDS's are only updated when changes are made to the material or new hazards are discovered. The GHS recommends setting a specific time period (3-5 years) for review of the information, something that Canada already requires under WHMIS.

Many of the health and physical hazard definitions differ between the HCS and GHS. Again, see the detailed comparison between the GHS and OSHA HCS systems for more information. Remember, the GHS is a model standard, so it is not simply approved and implemented as written, so not all of its clauses will become part of US (or other countries') law.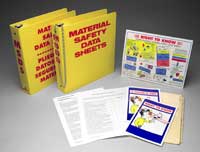 These handy MSDS binder training inserts and other Right To Know compliance materials are available at Safety Emporium.