European regulations regarding SDS's, labelling and packaging follow the Globally Harmonized System (GHS). However, the GHS is a model standard, so not all countries around the world have implemented it in the same way. For example, in the US, OSHA has no authority over the content in sections 12-15 of an SDS and therefore does not enforce those under the 2012 version of the Hazard Communication Standard, but in Europe these are enforced. Likewise, in Canada, SDS's expire after 3 years, but the US has no such requirement.
Regulation (EC) 1272/2008 on classification, labelling and packaging of substances and mixtures (CLP) implemented the GHS via amendments to Annex II of REACH. The CLP was a stepwise replacement of Directives 67/548/EEC (substances) and 1999/45/EC (preparations).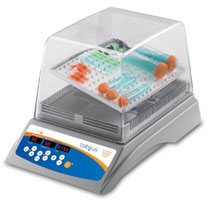 Safety Emporium has all kinds of lab equipment such as these
incubating rocking shakers and more
in both US and European voltages.
The European Chemicals Agency maintains an up-to-date list of the legally-required harmonized classifications and labellings for substances in the EU. Simply click on the "Search for Chemicals" box to search by name, EC or CAS number or select the Advanced search for a wide variety of options. The EU's REACH regulations are creating a central registration point for chemical information as well. The ECHA document Guidance on the compilation of safety data sheets is a particularly useful resource.
The now superceded directives 67/548/EEC and 99/45/EC required producers of dangerous chemicals in EC (European Community) member states to provide industrial and professional users with detailed health, safety and environmental information and advice about their products in the form of safety data sheets. Directive 91/155/EEC, as amended by Directives 93/112/EEC and 2001/58/EC, set out the requirements for the information which should be included in a safety data sheet. You may download 2001/58/EC in various languages from the European Union web site. This site also has Directive 98/24/EC which outlined employer responsibilities in detail. Environmental Software and Services has a nicely formatted section-by-section discussion of European sheets and mentions their differences with U.S. requirements.
The United Kingdom's law governing SDS's (among many other items) was originally the Chemicals Hazard and Information and Packaging for Supply Regulations (CHIP), which were revoked effective June 1, 2015 after the GHS was phased in. It is unclear whether the UK will keep numerous domestic regulations in line with the rest of the EU following their June, 2016 vote to leave the European Union, but we suspect they will almost certainly need to keep their SDS regulations on par with their biggest trading partner. Stay tuned.
Two other resources that may help are Chemical Safety Cards produced by the International Occupational Safety and Health Information Centre and Status of GHS Implementation By Country (which is a worldwide list, not merely the EU) at the UNECE.
Be sure to check out our SDS Suppliers and Translators and Software pages; there are a few vendors on there that are based in Europe or offer services with EU compliance.