Definition
The American Conference of Governmental Industrial Hygienists, Inc.(ACGIH), is an organization open to all practitioners in industrial hygiene, occupational health, environmental health, or safety. Their web site is https://www.acgih.org/.
Industrial hygiene deals with the protection of the health of those involved in industry. This classifies it as a form of preventative medicine.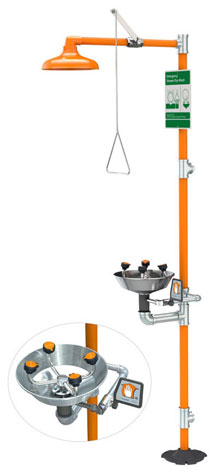 Safety Emporium carries all kinds of eye/face washes, safety showers, drench hoses and more.
Additional Info
ACGIH publishes over 400 titles in occupational and environmental health and safety. They are most famous for their Threshold Limit Values publication which lists the TLV's® for over 700 chemical substances and physical agents, as well as 50 Biological Exposure Indices (BEI's®) for selected chemicals.
There was considerable controversy concerning the regulatory implications of TLV's, and the ACGIH was sued by a manufacturer's association in December 2000. See the links below for more information.
Despite the name of the organization, government funding does not support the ACGIH. Research into and the publication of documents related to TLVs are supported through volunteer efforts and crowd funding. However, there are significant overhead expenses (including preparation for legal challenges) that need to be met to maintain this resource. In that regard, the ACGIH's Foundation for Occupational Health & Safety (FOHS) was set up as a charitable 501(c)(3) corporation to support these efforts. Tax-deductible donations to the FOHS help ensure the continued existence of scientifically-based ACGIH® TLVs and BEIs.
Books Available
NOTE: We may collect a share of sales or other compensation from the links in the following list:
SDS Relevance
You will most commonly see the term ACGIH mentioned with respect to Threshold Limit Values. Such exposure values can provide terrific guidance as to the hazards and risks posed by a particular chemical. Always be sure to read scan the SDS for such information before using that material for the first time...and then take the appropriate steps to keep your exposure as low as reasonably achievable (ALARA).
The ACGIH or any member thereof is a good resource when you have questions or concerns about occupational and environmental health.
Further Reading
See also: AIHA, ASSE, ASTM, Threshold Limit Values (TLV)
Additional definitions from Google and OneLook.
---
Entry last updated: Thursday, September 9, 2021. This page is copyright 2000-2023 by ILPI. Unauthorized duplication or posting on other web sites is expressly prohibited. Send suggestions, comments, and new entry desires (include the URL if applicable) to us by email.
Disclaimer: The information contained herein is believed to be true and accurate, however ILPI makes no guarantees concerning the veracity of any statement. Use of any information on this page is at the reader's own risk. ILPI strongly encourages the reader to consult the appropriate local, state and federal agencies concerning the matters discussed herein.