Definition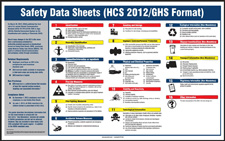 Ensure your workers are trained with safety posters and more at Safety Emporium.
The American Industrial Hygiene Association, (AIHA), promotes, protects, and enhances industrial hygienists and other occupational health, safety, and environmental professionals in their efforts to improve the health and well being of workers, the community, and the environment. The AIHA is a global organization that is not limited solely to industrial hygiene. Their web site is https://www.aiha.org/.
Industrial hygiene deals with the protection of the health of those involved in industry. This classifies it as a form of preventative medicine.
Additional Info
AIHA is one of the many organizations involved with developing ANSI standards in the areas of Ventilation Systems, Occupational Health & Safety Systems, and Respiratory Protection.
AIHA also maintains a variety of Volunteer Groups, Task Forces and Special Interest Groups (SIGs) relevant to health and safety topics.
SDS Relevance
AIHA's Workplace Environmental Exposure Levels (WEELs) are air concentration guide values for chemicals in a healthy worker's breathing zone. The time-weighted average (TWA) concentrations are based on levels that a healthy worker could be exposed to on an occupational basis (eight hours a day on five consecutive days with two days off) without adverse health effects. WEELs are similar to ACGIH's TLV's and cover a range of materials not currently addressed by ACGIH or OSHA. A complete table of these values is available from the Occupational Alliance for Risk Science (OARS).
If present on the Safety Data Sheet, the WEEL would be found in Section 8 (exposure controls/personal protection).
One of the services that AIHA offers is their SDS & Label Authoring Registry which bills itself as "the only credential that focuses on assessing the skills and knowledge individuals need to properly prepare or review SDSs and Labels to meet GHS requirements." This includes a Safety Data Sheet Registered Professional (SDSRP™) credential. They also offer an SDS and Label Authoring Registry Preparation Course which is ideal for preparing for the Registry application.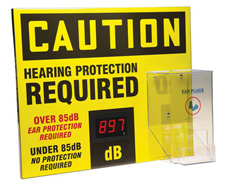 Encourage use of proper hearing protection with electronic decibel meter signs from Safety Emporium.
Further Reading
See also: ACGIH, administrative controls, ANSI, ASTM
Additional definitions from Google and OneLook.
---
Entry last updated: Wednesday, February 16, 2022. This page is copyright 2000-2023 by ILPI. Unauthorized duplication or posting on other web sites is expressly prohibited. Send suggestions, comments, and new entry desires (include the URL if applicable) to us by email.
Disclaimer: The information contained herein is believed to be true and accurate, however ILPI makes no guarantees concerning the veracity of any statement. Use of any information on this page is at the reader's own risk. ILPI strongly encourages the reader to consult the appropriate local, state and federal agencies concerning the matters discussed herein.