Definition
An Air Force Instruction (AFI) is a policy or guideline issued by the United States Air Force (USAF). Compliance with AFI's is mandatory for U.S. Air Force military forces under the jurisdiction of the AFI's author.
Additional Info
Most AFI's apply to the entire USAF. For example, AFI 90-821 of May 13, 2019 governs the Hazard Communication (HazCom) Program throughout the Air Force. AFI's may also refer to operations or policies at one or more bases.
Members of the U.S. Air Force must comply with national Safety Data Sheet standards and regulations such as 29 CFR 1910.1200 (the OSHA Hazard Communication Standard), but AFI's may supplement those national standards and regulations. AFI's can include chemical labeling, shipping, transport, and/or storage requirements.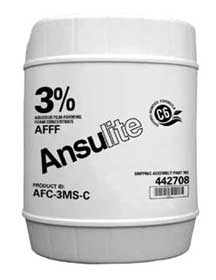 Safety Emporium sells
MIL-SPEC fire fighting foam concentrates
and other extinguishing agents.
AFIs differ from MIL-SPECs which are defense/military standards that outline specific technical performance requirements for items that are manufactured to military requirements/specifications. AFI's are general orders to personnel throughout the specified chain of command whereas MIL-SPECs are specific to particular items used by the DoD. An AFI may, of course, reference one or more MIL-SPECs. For example, the Air Force has AFI's which specify that firefighting foam must meet MIL-PRF-24385F: Fire Extinguishing Agent, Aqueous Film Forming Foam (AFFF) Liquid Concentrate, for Fresh and Sea Water.
SDS Relevance
Safety Data Sheets prepared with the military in mind may occasionally reference AFI's. Some of the more common ones are:
AFI 90-821 contains the Air Force Hazard Communication (HAZCOM) Program that puts into effect the requirements of the OSHA Hazard Communication Standard 29 CFR 1910.1200, the main US regulation covering Safety Data Sheets (SDSs).


AFI 91-301 outlines the Air Force Occupational And Environmental Safety, Fire Protection, and Health (AFOSH) Program. AFI 91-301 applies to all military and civilian personnel whose duties require the use or handling of hazardous materials.


AFI 32-7002 covers USAF compliance requirements for all solid and hazardous waste, except radioactive waste.
Further Reading
Additional definitions from Google and Onelook.
---
Entry last updated: Wednesday, February 16, 2022. This page is copyright 2000-2023 by ILPI. Unauthorized duplication or posting on other web sites is expressly prohibited. Send suggestions, comments, and new entry desires (include the URL if applicable) to us by email.
Disclaimer: The information contained herein is believed to be true and accurate, however ILPI makes no guarantees concerning the veracity of any statement. Use of any information on this page is at the reader's own risk. ILPI strongly encourages the reader to consult the appropriate local, state and federal agencies concerning the matters discussed herein.