Definition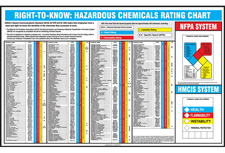 Keep informed about workplace hazards with proper labeling techniques and safety posters available from Safety Emporium.
The Hazardous Material Information Resource System (HMIRS) is a U.S. Department of Defense (DoD) automated system developed and maintained by the Defense Logistics Agency. HMIRS is the central repository for Safety Data Sheets (SDS) for the United States Government military services, civil agencies and their contractors.
In 2017, the DLA's Hazardous Material Management System was merged with DoD's HMIRS to create HMIRS Next Gen, the current version of the product. The DLA announced this in an article titled New consolidated DoD HAZMAT website saves time and money.
This system was previously called HMIS through May 2002, but the name was changed, in part, to avoid conflict with other similarly-named systems:
Additional Info
HMIRS gives DoD and other Federal employees access to the Safety Data Sheets for hazardous items in the government inventory. HMIRS also assists in compliance with transportation/shipping requirements through value-added data. The transportation information provides proper shipping names, hazardous classes, and shipping label requirements associated with HazMat for shipment, nationally or internationally, by any mode of transportation.
DoD Instruction 6050.05 (Feb 26, 2019) requires labels to be consistent with the 2012 version of H29 CFR 1910.1200, the OSHA Hazard Communication Standard (HCS) for US locations or the GHS for non-US locations per Military Standard MIL-STD-129R, Federal Standard FED-STD-313E, and Subpart 223.3, DFARS. Previously, DoD had their own Hazard Communicating Warning Label format under these standards.
HMIRS information is also provided to various other DoD systems for environmental, logistics, and transportation purposes. In addition, HMIRS is also the repository for the Hazard Characteristics Codes (HCC) assigned to hazardous materials. HCC's addresses an often overlooked, but highly critical, aspect of working with hazardous materials, the proper segregation and physical separation of incompatible substances.
There are approximately 544,000 records in the HMIRS database. However, the records are for official use by government employees and government-sponsored contractors only and are unavailable to the general public. While an officially licensed civilian version was at one point commercially available prior to ~2016, unauthorized distribution of the product or its contents is strictly prohibited and may be punishable by up to 10 years imprisonment and/or a fine up to $10,000.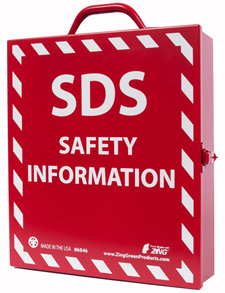 Your employees can stay informed and comply with OSHA regulations with SDS information stations and compliance products from Safety Emporium.
SDS Relevance
The HMIRS HCC's can appear on Safety Data Sheets that come from the civilian version of the database or on sheets whose manufacturer has written their sheets so they can be incorporated directly into HMIRS without further changes. OSHA does not require HCC's to be on Safety Data Sheets, but, of course, the information conveyed by these codes is part of the required content.
Further Reading
Additional definitions from Google and OneLook.
---
Entry last updated: Saturday, December 31, 2022. This page is copyright 2000-2023 by ILPI. Unauthorized duplication or posting on other web sites is expressly prohibited. Send suggestions, comments, and new entry desires (include the URL if applicable) to us by email.
Disclaimer: The information contained herein is believed to be true and accurate, however ILPI makes no guarantees concerning the veracity of any statement. Use of any information on this page is at the reader's own risk. ILPI strongly encourages the reader to consult the appropriate local, state and federal agencies concerning the matters discussed herein.