Definition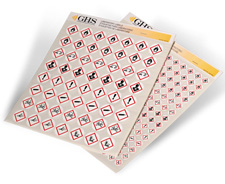 Get your GHS-compliant labels and signs from Safety Emporium.
N.O.S. or NOS is a U.S. DOT abbreviation for Not Otherwise Specified and is applied to groups of substances that are not referenced by a single technical name in DOT's HazMat Table found at 49 CFR 172.101.
DOT regulations require that a Proper Shipping Name (PSN) be used when labeling shipments of hazardous materials. In many instances, these will be generic (broad classes of) names such as "poisonous liquid, n.o.s."; see below for specific examples.
Additional Info
All physical properties and hazards in a package must be considered to comply with DOT regulations. These include the identities of the materials, the state of the items (liquid, solid, gaseous), whether the material is a solution, and if cryogens such as Dry Ice are used to maintain temperature. Once all materials and hazards are identified, DOT's Hazardous Materials Table (HMT) is used to determine the proper shipping name.
N.O.S. is used when the a chemical's name does not specifically appear in the HMT. For example, while ethanol appears in the table and has a proper shipping name of Ethyl Alcohol or Ethanol, an alcohol that is not listed specifically in the table will be described as "Alcohol, n.o.s" or "Flammable liquid, n.o.s".
A detailed description of the application of the n.o.s designation appears in Paragraph (c)(12) of 49 CFR 172.101.
See the links under Further Reading below for how to comply with the DOT HazMat shipping regulations, including the selection of the proper shipping name(s).
SDS Relevance
OSHA requires the chemical and common names of hazardous components to be listed on an Safety Data Sheet, but the proper shipping name falls under the non-mandatory Section 14 (toxicological information) of the SDS. This section is non-mandatory because, while OSHA revised the Hazard Communication Standard in 2012 to bring the US into alignment with the Globally Harmonized Standard (GHS), it does not have the regulatory authority to require sections 12 through 15 of the GHS model standard. Therefore, there is no requirement that any data be supplied for those sections although many manufacturers voluntarily provide it.
For the same reason, proper shipping names are not one of the six required labeling elements required on chemical containers by OSHA. However, when it comes to the packaging for shipment, DOT requires the PSN to be on the package. Therefore, some, but not all, manufacturers include the PSN on the product labels as well.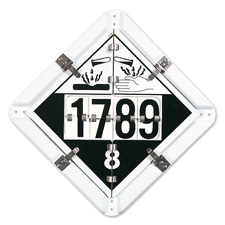 We've got your DOT number at Safety Emporium with DOT placards, NFPA labels and more!
Further Reading
See also: CAS Number, EINECS number, IUPAC, UN/NA number.
Additional definitions from Google and OneLook.
---
Entry last updated: Friday, January 6, 2023. This page is copyright 2000-2023 by ILPI. Unauthorized duplication or posting on other web sites is expressly prohibited. Send suggestions, comments, and new entry desires (include the URL if applicable) to us by email.
Disclaimer: The information contained herein is believed to be true and accurate, however ILPI makes no guarantees concerning the veracity of any statement. Use of any information on this page is at the reader's own risk. ILPI strongly encourages the reader to consult the appropriate local, state and federal agencies concerning the matters discussed herein.