Definition
A

cryogen

is a substance used to produce very low temperatures. A synonym is "refrigerant".

Cryogenics

is the study or production of very low temperatures.
Additional Info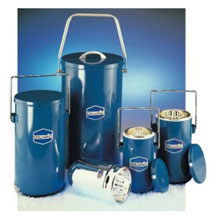 You can get metal-cased Dewars like these from Safety Emporium.
Examples of common cryogens include liquid nitrogen which has a boiling point of 77 Kelvin (-196 °C = -321 °F), liquid helium (b.p. 4.2 K = -270 °C = -450 °F), and carbon dioxide (a solid that converts directly to gas at 195 K (-78 °C = -109 °F). Cryogens can be pure substances or mixtures of different substances. For example, chemists will often use a slush bath made of acetone and solid carbon dioxide to maintain a temperature of -78 °C.
Handling of cryogens requires special equipment and training. Liquid cyrogens such as liquid nitrogen are stored in special vacuum-jacketed vessels called Dewar flasks (named after the first person to liquify helium, James Dewar) which are essentially fancy versions of a common Thermos® flask. These have have a loose-fitting cap to vent the evolved gases while preventing air and moisture from entering.
While Dewar flasks can be made out of steel or plastic, common laboratory ones are usually made of silvered glass. When glass Dewars are dropped or treated roughly, they tend to implode with a loud bang, so most laboratory Dewars are enshrouded in a plastic mesh, aluminum jacket, or tape to contain shrapnel.
Cryogens present a number of serious physical and health hazards:
Books Available
SDS Relevance
The Safety Data Sheet for a cryogenic substance should list the hazards and proper personal protective equipment to use. Goggles and gloves should be worn when handling cryogens. Always keep cryogens in approved containers and in well-ventilated areas.
Read the hazards listed above and make sure you have taken the proper precautions for each. When warm (room temperature is warm compared to a cryogen, remember) objects are placed in a cryogen bath, the cryogen will immediately boil rapidly and vigorously, producing significant amounts of vapor, fog, and splashing. Consider oxygen-deficiency alarms for locations where a sudden release of vapor may displace oxygen.
Do not place Dewars (especially glass ones) in places where they could be knocked or dropped. If you live in an earthquake-prone area such as California, you may need to install lips on shelves or strap your Dewars down.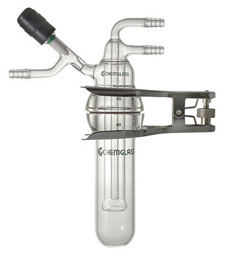 You can get cryogenic sublimators and related equipment from Safety Emporium.
Further Reading
See also: air, asphyxiant, carbon dioxide, inert, pressure units, temperature units.
Additional definitions from Google and OneLook.
---
Entry last updated: Saturday, July 9, 2022. This page is copyright 2000-2023 by ILPI. Unauthorized duplication or posting on other web sites is expressly prohibited. Send suggestions, comments, and new entry desires (include the URL if applicable) to us by email.
Disclaimer: The information contained herein is believed to be true and accurate, however ILPI makes no guarantees concerning the veracity of any statement. Use of any information on this page is at the reader's own risk. ILPI strongly encourages the reader to consult the appropriate local, state and federal agencies concerning the matters discussed herein.