Definition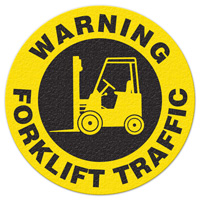 Ensure a safe workplace with antislip floor marking signs from Safety Emporium.
The North American Industrial Classification System (NAICS) is an economic classification system. Economic units that use like processes to produce goods or services are grouped together. This "production-oriented" system permits statistical agencies in the United States, Canada and Mexico to produce data that can be used for measuring productivity, unit labor costs, and the capital intensity of production; constructing input-output relationships; and estimating employment-output relationships and other such statistics that require that inputs and outputs be used together.
In 1997, the U.S. Office of Management and Budget (OMB) adopted NAICS as a replacement for the older, less-capable, U.S-only system called the Standard Industrial Classification (SIC) System.
Additional Info
Both SIC and NAICS use code numbers to express a particular unit of economic activity. The NAICS system has more categories, is more capable, and has greater flexibility than the older system.
NAICS is a six-digit system that provides for comparability among Canada, Mexico and the U.S. countries at the five-digit level (in most cases). SIC was a four-digit system that was not related to the systems in use by Canada and Mexico.
The nomenclature of the groupings within the system is different in NAICS. NAICS calls the highest level of aggregation in the system a sector; the SIC referred to this grouping as a division. Likewise, what NAICS calls a subsector, SIC called a Major Group.
In the US, NAICS is reviewed every five years and updated if required. Recent revisions occurred in 1997, 2002, 2007, and 2017. The 2022 revision is now in effect and while many companies have transitioned accordingly, there is no specified timeline.
SDS Relevance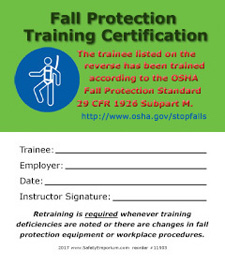 Get your training certification cards from Safety Emporium.
NAICS code numbers do not generally appear on Safety Data Sheets, however OSHA uses NAICS codes to classify statistics regarding violations of the OSHA Hazard Communication Standard (HCS), 29 CFR 1910.1200. OSHA stopped using SIC codes for this purpose in 2003, however their older data sets are based on SIC coding (see Further Reading below).
In 2018, the HCS had the second most violations of any OHSA standard after fall protection related to construction. A list of the Top 10 Most Frequently Cited Standards is available.
Further Reading
See also: CAS number, NSN, UN/NA number.
Additional definitions from Google and OneLook.
---
Entry last updated: Friday, January 6, 2023. This page is copyright 2000-2023 by ILPI. Unauthorized duplication or posting on other web sites is expressly prohibited. Send suggestions, comments, and new entry desires (include the URL if applicable) to us by email.
Disclaimer: The information contained herein is believed to be true and accurate, however ILPI makes no guarantees concerning the veracity of any statement. Use of any information on this page is at the reader's own risk. ILPI strongly encourages the reader to consult the appropriate local, state and federal agencies concerning the matters discussed herein.